Discover The Smoky Mountain Trout House
Gatlinburg has some restaurants that stand out as being a time proven place. One of those places is the Smoky Mountain Trout House. I know that each time I have been in Gatlinburg this restaurant has always been hopping and seems to always have a huge line. So this definitely makes it very easy to see this is one of the best restaurants in Gatlinburg and definitely a place that you are going to want to learn more about before you go to Gatlinburg.
Table Of Contents
Video of Smoky Mountain Trout House
Location of Smoky Mountain Trout House
Features Of Smoky Mountain Trout House
What Is Our Favorite Dish On The Menu
Video Of Smoky Mountain Trout House
Location And Hours Of Smoky Mountain Trout House
The Trout House is located at:
410 Parkway
Gatlinburg, TN 37738
Smoky Mountain Trout House Website
As of recent times we have seen information that the Smoky Mountain Trout House has been like many businesses and have changed their hours. We are updating this post and this is the current hours that are reported as of 2/21/23.
3 PM and closing at 9 PM each day.
Please note this is an affiliate link and clicking on the link and booking could lead to me getting paid a commission.
Located in Gatlinburg it is very easy to see that the Holiday Inn Express Gatlinburg Downtown has plenty of amenities and a great location. The hotel offers free on-site parking, indoor pool a microwave in the rooms, easy access to the shuttle, and has a breakfast. All of these options along with a great branded chain means your hotel stay will not go wrong.
Features Of Smoky Mountain Trout House
As you can imagine and how highly I have already talked about the Smoky Mountain Trout House I have a lot of praise for the location. Still, here are some of the features that you can find enjoyable about the location and help make a further educated choice on where to spend your hard earned money for dinner.
The main thing to enjoy at the restaurant is the seafood options. Yes, when you are in Gatlinburg seafood is still a menu option, but what is really good is the fact that the restaurant has fresh seafood. The fresh seafood is not something commonly found in a land locked location, but it is one that is here. So it is a simple reprieve from the typical food options you find in town.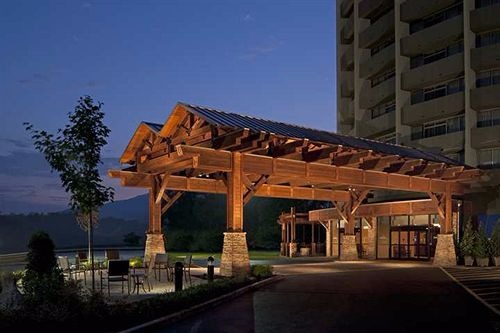 Price varies so please click the link for the most recent price.
The Park Vista is an iconic hotel in Gatlinburg. The hotel is meant for families and has a great pool for the entire family to enjoy, but also is a pet friendly hotel as well. The views from The Park Vista are second to none and the room selection helps guarantee you find the right room each time you stay.
Quality of the food is another aspect that you can enjoy. Now, just like any restaurant most of the food in most of the dishes is going to knock your socks off. However, you do have some cases that the food would not meet your standards. Still, the number of options on the menu and the seafood quality is definitely going to make it easier for you to find a dish that you normally would not find at other locations.
The older building, in fact, some people have reported it as the oldest building in Gatlinburg, you have a lot of the older world charm. The downside is the older charm at the restaurant does come with some issues. The main issue comes from the restrooms location are located on the second floor. Still, that comes from the age of the building.
What Is On The Menu
The menu at Smoky Mountain Trout House as you can imagine is mainly seafood. However, it does have some of normal food you may have never thought about trying before. One of those that is a great option for a lot of people is the trout fritters. These are a great trout option and definitely one that fish lovers will rejoice as an appetizer.
The shining star of the menu is the trout dinners. The trout dinners here has 10 different preparations for the meal. All of the main dishes do include 2 sides, which provides you with a well balanced meal. If trout is not your cup of tea, then you can enjoy shrimp or a catfish filet as well.
Now, the seafood options are not the only aspect of the menu. In fact, the restaurant in Gatlinburg, does sell steaks, chicken and burgers. These are not as well known as what the fish options are, but are still a viable option for people who want to eat dinner and not have fish.
The kids menu is coming with a single side of French fries, but it does have 5 different options. A couple of the options are fish related, but they also have the normal fare of a hamburger and chicken tenders. If your kids are really picky you do have the option for a grilled cheese sandwich.
Pros And Cons
The trout is fresh and prepared properly.

You have multiple options on how to have your fish prepared.

Is one of the seafood specific restaurants in Gatlinburg.

Wait staff is very attentive to your needs.

Does have a takeout menu that you can order from.
Men's restroom is on the second floor and up the stairs.

Since they specialize in fish dishes, you can find other meal items at a higher standard in other restaurants.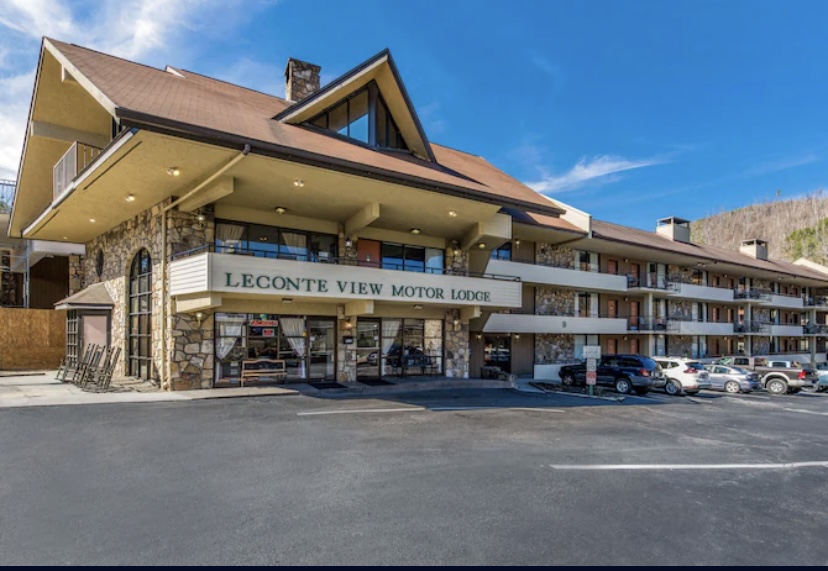 Price can vary depending on the season. Please click the link below to find out more. This is also an affiliate link and booking a room may lead to us getting a small commission.
Le Conte Lodge is rated at a 7/10 on Expedia. A short 3 minute walk to Gatlinburg SkyLift Park and only 9 minutes to Great Smoky Mountains National Park entrance. LeConte Motor Lodge has a pool, free WiFi, and free guest parking. LeConte Motor Lodge is a pet friendly location.
Frequently Asked Questions
Do You Need Reservations?
No, the restaurant is first come first serve.
Are Any Delivery Options Available?
No, their is no delivery options available.
Any Gluten Free Options?
Yes, their is some gluten free options.
Is Wine On The Menu?
Yes, wine is available for people to purchase and drink.
What Is Our Favorite Menu Dish
The dish that we really love from the Smoky Mountain Trout House is actually one of those dishes that is going to make the restaurant famous. The dish and actually the meal layout that we like is going to be as follows and it generally does not change for us because we love it so much.
We actually like starting off our meals here with the fried mushrooms. Yes, that is right we like starting off with something outside of cheese sticks. That is probably because the last time we ate here this was not on the menu, but the mushrooms are a great substitute and easily something that we enjoy eating as a meal for the day. As an update we have found that Wisconsin Cheese Curds are on the menu now, but have not tried them as of yet.
Price and room availability varies please click link for latest information.
The Bear Creek Hotel is a location that has a comfortable bed and place for you to lay down at night. The rooms offer free WiFi in the rooms along with the popular family amenities of microwaves and mini-fridges.
The appetizer is a great starting dish. However, the true star is the entree. For that I tend to head towards the Blackened Trout. If you do not like the blackened part, then I would highly recommend looking at The Eisenhower. The prep on this fish and the serving presentation is definitely one you do not want to overlook.
Now when we come to desserts we tend to want to get a feel for the islands. That means we tend to opt for the Key Lime Pie if they have any in. This pie is great tasting and it tends to give us some of the best food for a dessert. Even if we do not have room for it right away in our stomachs we like to take this back to the hotel with us to eat later on in the evening.
What We Did Not Really Care For
Finding an option that we did not really care for was a challenge. We used to not like the clam chowder, but that was by personal choice. Now, the dish that I do not really care for and it is again based off of my personal preference is the Green Bean Almodine. This comes from the fact that my parents used to make me eat a dish similar when I was younger and I honestly grew tired of eating the same type of food all the time.
Price can vary depending on the season. Please click the link below to find out more. This is also an affiliate link and booking a room may lead to us getting a small commission.
The Gillette is a family owned motel in Gatlinburg. The Gillette is rated a 4.5 out of 5 on Expedia. The Gillette is located near the firehouse. The hotel is a short walk from Cherokee Grill and Gatlin's Escape Games. The hotel has balconies for the rooms and an outdoor seasonal pool.
What Attractions Are Near Smoky Mountain Trout House
After your meal or even before the meal you may want to know about some of the places to check out before you eat. Since that is the case, here are some of the main Gatlinburg attractions you can check out.
Great Smoky Mountains National Park is easily the main attraction in the town. However, in this case it is not an attraction you would want to walk to. So you can find this is one of the main attractions and one to drive to or drive from and easily reach the restaurant.
If you are looking for a good attraction that is fun to do the Ripley's Mountain Coaster is not far from the restaurant. The coaster is one that makes it easier for you to enjoy the views, but also have an adventure that is short enough to give you time to do other things in the day.
Gatlinburg Brewing Company is another place to check out. The location is a little over a tenth of a mile from the restaurant, but still if you are over 21 is worth a stop.
Our Final Thoughts On Smoky Mountain Trout House
If you are trying to find a great restaurant for seafood in Gatlinburg, then you need to check out Smoky Mountain Trout House. I know that this is a restaurant that we love each time we go back to Gatlinburg, but we love the fact that it is a seafood restaurant that is going to take and specialize and come through with what they are preparing. So this makes it easier for us to sit down and enjoy the food that we are eating because we know the dish is going to be what we want to have and that it is going to be properly prepared when we are eating it.
Please note this is an affiliate link and booking a room with this link I may get a commission.
The Brookside Lodge is rated 8/10 and offers a pool, free WiFi, and parking. The rooms do have air conditioning and a gym is available as well. The hotel does have a breakfast that is available as well. The hotel is located a short 13 minute walk from Ripley's Aquarium of the Smokies, but also a 14 minute walk from Anakeesta. Please note the pool is seasonal.