What Are The Quiet Walkaways In Gatlinburg – Great Smoky Mountains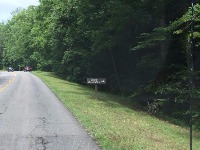 When you are driving around Gatlinburg and in the Great Smoky Mountains you will notice that along the side of the road you will see some signs that are going to say quiet walkaway, with a parking space or two for you to pull off into the area. Now if you are new to the Gatlinburg area or have never traveled to Gatlinburg before this will be something that you may have never seen before. With that being the case, you may start to ask yourself what are these walkaways and why would I want to stop here to get to these walkaways?
What Are The Walkaways? 
The answer for this is very simple and it is the fact these are small trails that will take you up into the mountains in older populated areas or even on some of the natural trails that you want to be around. These trails are generally going to be in an area that has something of interest, on Newfound Gap Road one of the walkaway trails actually takes you up to an older settlement area and gets you off of the road. So these trails because of how they are going to be laid out are very quiet and usually not going to have more than a couple of people on them at a time.
Where Are These Walkaways Located At? 
The best part is these walkaways are located at a variety of places that you are going to be able to walk to. You may have never thought about this before and tend to stick to the marked trails and other places, but you need to realize these are usually located right off the side of the road and have a small marker sign. Now the best part is if you have one of the guidebooks that are sold in the park at the various gift shops it allows you to know what exactly is going on and what you are going to see when you are at these spots. So you will not have to try to figure out what you are supposed to see and do.
Who Would Enjoy The Quiet Walkways? 
People who want to get out into the mountains and enjoy them on a more intimate level are going to enjoy these walkaways more than other people. These walkaways tend to not be as well maintained as say the trails in Cades Cove. So they are a little bit rougher and sometimes overgrown. However, the chance of getting to go out and enjoy the solitude that is  present in the mountains is great. Either way this can be a great hike for you or the entire family to enjoy if you want to get away from some of the popular crowded areas of the Smokies.
Who Would Not Do Good On The Walkaways?
The people who would not really do that well in the walkaways would be those who have some type of disability or people who do not want to go out and kind of blaze their own trails. This is because some of the trails are not as well maintained as what you would like to have them. However, the peace that you get is going to be one of the best things that you can do.
Our Final Thoughts On The Quiet Walkaways
While these trails are not for everyone, they are for the people who want to get away from a lot of the headaches that are seen in some of the different trails that you can walk on. These trails tend to have limited parking and they are a little bit harder to get to than what the normal trails are. With that being the case, if you want to have a great walk that allows you to connect with the beauty of the mountains you will want to know these are the best way to hear all the sounds that are present in the mountains.