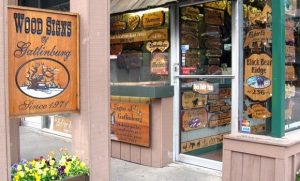 A shop that was featured in our article covering the best places to get a unique gift when you are in Gatlinburg is what we have opted to talk about today. The place is none other than Wood Signs of Gatlinburg, which as the name states is a place that you can get wood signs and I have to say that is definitely one of the best features you can find and in my own experience is one thing that has really set Gatlinburg apart from almost any other tourist destination and that is the fact that you are able to see a variety of crafters doing what they love and providing you with the option to get high quality products at a reasonable price. With that being said, it is now time to start our review of Wood Signs of Gatlinburg.
Location Of Wood Signs Of Gatlinburg
The location of the shop is on the Parkway. However, what you will find is you can also purchase online as well. The downside is shopping online is not nearly as fun, but I will include their website since so many people are unable to travel due to state restrictions, health concerns or other issues. If you are reading this article at a late date, this was written during the coronavirus pandemic.
715 Parkway #1
Gatlinburg, TN 37738
Features Of Wood Signs Of Gatlinburg
Custom made wood signs are available
Has hand painted signs available.
Family owned business and been around since 1971.
What I Like About Wood Signs Of Gatlinburg
Customized Wood Signs That Are High Quality
Usually when you look at some of the wood signs they do not look good at all. That could be because of the quality of the artist, but it could also be from the wood that is being used. With that being said, if you find a sign that you enjoy here, then the chances are good that you are going to have a sign that is customized, within reason, to what you are looking for and know it will last you for years to come.
Different Types Of Font Are Available For The Signs
With a lot of the different companies that I have seen that are selling the signs they tend to only have a single style of font. This is going to be a unique touch to the signs that I have not really seen anywhere else. The different style fonts allow you to have a sign that most likely will stand out from any of the other signs you can find. Now, on their website, which we have linked out to above, they do have a list of what the font would look like with your message on it. This makes it easier to know if you are getting what you want or not.
Wood Is A Great Look That Works Great In Any Home
With all the different styles that are being used now, from stainless steel, modern looks, to the chic looks it is one common theme that I see in almost all of them. That is somewhere in the design pattern is a piece of wood. Even if it is not in the design pattern right away, the wood tends to look great and with the quality of the pieces it is a perfect look to the home and really adds some of the best looks that you can find.
Been Around Since 1971 Which Shows The Quality Of The Signs
While a lot of businesses come and go, heck, the car dealer I bought a vehicle from closed after about 20 years in business. Well, not to really brag on Wood Signs of Gatlinburg, but the company has been around since 1971. That is 49 years and for a small family owned company that is quite a long time. What else this tells you is the products that you are buying are quality and definitely going to last. If they did not last, do you think the company would still be in business or have a strong reputation like they have now?
What I Dislike With Wood Signs Of Gatlinburg
Time It Takes For The Signs To Be Completed
With a lot of the retail stores that I have been to you can get the item right away. However, at Wooden Signs, you place your order and pick up later. Now, some of the more simple designs that you want to have completed it does not take long at all. However, if you want a completely new custom design, then you could have some problems in getting the sign back before your vacation in Gatlinburg ends and may have to get it shipped to your home.
What Others Are Saying
Greg2117 wrote a review on TripAdvisor and one thing that he said about the place, "these signs are amazing". So this review you can see is talking about how great the signs are and the type of quality that is present in the signs.
Now, I know that the one thing I mentioned was that I dislike some of the signs was the time it takes to get the signs. However, Jim R. from TripAdvisor counters what I dislike in the fact that he had this to say, "I received the sign very quickly". So this is definitely something that is great news, but I can tell you if you get a heavily customized sign, just like all quality work it does take time to get the work done.
My Final Thoughts On Wood Signs Of Gatlinburg
Wood Signs of Gatlinburg is one location that creates unique wood signs, which I have only seen before at craft shows. When I do see these at craft shows they tend to already be premade and are unable to really be customized to more of what you want to have the signs look like. Now, I have to admit I really love the look of the signs, but also the quality of the wood pieces as well. Overall, if you are looking for a unique item that can be a gift or your own then I would recommend Wood Signs of Gatlinburg, especially if you are looking for a wood gift. If you are not looking or a sign or a wooden item, though, then the shop may be interesting to walk through, but most like you would not find it that interesting.