What To Do In Gatlinburg With Teens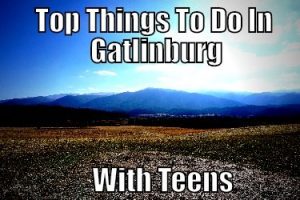 Traveling to Gatlinburg is very exciting because of the chance to rejuvenate your batteries, but also experience something new each time you visit. When you travel with teens, though, it quickly becomes a battle on trying to figure out where to go or even what you can do with your teens in Gatlinburg. That is why decided it was time to help out our stressed parents by giving them a list of what to do in Gatlinburg with teens. With this list it allows you to find the best trip possible and know your teens are going to enjoy the trip as well and not have their nose stuck in electronics all the time.
Eat At One Of The Breakfast Restaurants
Starting the day off right often means enjoying a nice breakfast. While I will mention several restaurants, it is very important to find the right one to get the experience and feel for the town and area. Just imagine your teenager actually being up before noon during their break?! That would be a miracle and you definitely do not want to disappoint them in the meal you are buying so here is my top three picks for a breakfast restaurant.
Crockett's Breakfast Camp is easily an experience you cannot find anywhere else. Yes, it is mainly a basic breakfast type of restaurant, but getting a chance to go into the restaurant and explore the area and get that old time type of feel for the location. What I really like about the location and even had my kids impressed with was the fact that some of the meals you order are served in the cast iron they are cooked in.
The Pancake Pantry is a location that has its own unique experience which a lot of people tend to like. However, for teens, it could be a little bit on the plain side for what they may be expecting. The restaurant has top-notch food and that definitely helps give you the chance to impress your kids with some great food, but at the same time make sure you know the location is more along the lines of a traditional style restaurant.
Finally, the Log Cabin Pancake House is another great location for breakfast. The place has been around for 40 years now and I have to say it is definitely worth the stop. When you stop here you get free parking if you are a customer, which is a great feature, but your teens will have a filling meal that makes it easier for you to enjoy the trip because your kids will not ask you for food right away.
Play A Round At Hillbilly Golf
Hillbilly Golf is a local putt-putt course that has been around for years and has kept up with the latest changes to keep the course fun. The course is not that difficult so if your teens have some younger siblings they could even take on the course. What is great about Hillbilly Golf, though, is the fact that it allows you to enjoy the time in the mountains and while it does have some crowds they are generally families as well and understand you are just there to have a great time with your family.
Check Out Anakeesta
Anakeesta is still expanding and adding on new features, but what is really amazing is the fact that this is fun for everyone in the family. The adults have a chance to go out and eat and shop and the teens have a chance to zip line, tackle tree canopy bridges, or even take in the views. Now, unlike some of the other attractions to get to the location you actually have to take a ride in a chair life or a Chondola. The ride is roughly 8 minutes to get to the top, but the views you get from the ride up are stunning and definitely worth the price of admission in their own right.
If you are looking for a great treat, make sure you check out the pie shop. The teens will love the pie selection and the adults will love the chance to sit down with their teens and enjoy the time together. Not to mention the pies you get from here are the type that will make you wish you could visit every day.
Check Out The Trails In The National Park
While this may seem like it is a very basic thing to say, which it is, it is meant to be that way. That allows you to explore the park and find a trail that actually works for you and your teens. I have to say, though, that I highly recommend Cades Cove as the place to hit the trails as it is a nice area and the trails lead you through a wide range of scenery to enjoy.
Now, what is really great about the trails in the national park is you are getting your teens out in nature. Yes, that means they will be away from their devices and I can honestly say when you are in the trails some of which are in the middle of nowhere you are going to find that the cell phone signal tends to drop dramatically. This means your teens put down their devices and actually look around what is going on and that means they can finally see what is happening and know they are growing as a person and not glued to their electronics.
Do you want to avoid some of the crowds that are found in Cades Cove and other popular areas? I am sure if you want some quiet time to reconnect with your kids, then you definitely want that time away from the crowds. Well, I found the quiet walk aways to be great for this time. These little paths are usually not as popular and often located in a quiet area. This means you get the time you want with your family and not really have to be concerned about the crowds disrupting your time together.
Go Down The Historic Motor Nature Trail
The Historic Motor Nature Trail was an area that was actually hit by the fires in some parts, but not completely, which is a blessing. However, the trail is definitely a great place to take your family down. Almost everyone will find something that they have never seen before and that makes the adventure one that is rather enjoyable. The downside is where the trailheads are located this trail does tend to get busy and often makes it a challenge to drive down, but you just have to make sure you are ready for the adventure and remember you are on vacation so leave your road rage at the entrance and enjoy the beauty surrounding you.
Take In The Gatlinburg Arts & Crafts Community
The arts and crafts community generally has the smaller shops and personalized shops you are sure to love. This means you can finally find the items your teens are going to fall in love with and know that you are going to love the items as well. Now, the downside is this does mean shopping with teens and if you have a teen girl you know what I mean! All joking aside, though, this is a location that kids of all ages will enjoy because of the number of shops and the variety of shops. Not to mention, you could end up being shocked with your teens who could end up finding some great item of some of the best quality possible.
A Trip To Dollywood
Dollywood is not located in Gatlinburg, but in neighboring Pigeon Forge. Depending on traffic you may end up getting lucky and reach Dollywood from Gatlinburg in a few minutes. However, Dollywood is a full theme park and one that has plenty of attractions and rides for kids of all ages. The downside is if you are on a limited budget it could cost you quite a bit of money for a larger family to go to Dollywood, but the price and the enjoyment your kids have along with you is well worth the cost.
I have to say I would recommend Dollywood as well for a variety of restaurants. Granted, they are inside of a theme park so you already know what that does to a budget and price. However, the food is more along the Southern Cuisine style. This allows you to find southern food and know it is authentic food to enjoy and not have to worry about it not fitting your needs.
Check Out Downtown Gatlinburg
Gatlinburg does have a great downtown area that is safe and enjoyable. The downtown area has plenty of shops and restaurants to check out as well. What is really great is the chance to walk the downtown area and pop in and out of the shops when you find one that you want to check out, but not feel pressured to buy anything. The downside is the crowds can get to you at times, but at least you are in a beautiful area and not walking down the streets of New York City with the crowds in the street.
If you do get tired of walking, then you can find a bench that is around the area and sit down. Then you and your kids can participate in the joys of people watching. Yes, this may seem like a little bit boring, but just sit down and talk with your teens while watching the people and once you do this it is like a reconnection on the humor that you have with your kids.
Catch A Great Dinner
Dinner in Gatlinburg is definitely a special treat and while the food is generally among the same that you get anywhere else, you need to realize the location makes it special. What else helps is the fact that when you are on vacation you tend to spend more money for food and have the money saved up as extra so you are not concerned about overspending or spending your bill money.
I have to say that I really like the BBQ restaurants as we do not have a lot of those where I am from. However, if you are looking for a great steak you can find that or if your teenagers want to experience some great Italian food then you can enjoy the different Italian restaurants in the city. However, I do recommend that you check out the locally owned restaurants or local chain restaurants as these are places you usually only get to experience in Gatlinburg or the small region.
Gatlinburg With Teens Is Possible And Enjoyable
Taking a vacation with teens is a terrifying thought for a lot of parents and it is very easy to see why. However, at the same time, it is a great way to connect with your kids, younger and older, to get the chance to connect with each other like never before.  Just knowing what to do in Gatlinburg with teens definitely makes your life a lot easier and provides you the chance to reconnect as a family while enjoying a beautiful part of America.