As a seasoned traveler and an ardent lover of comfort and quality, I recently had the pleasure of staying at the Greystone Lodge on the River in Gatlinburg, Tennessee. With its ideal location, cozy rooms, and an array of amenities, the lodge provides a perfect blend of modern comfort and rustic charm, offering a quintessential Smoky Mountain getaway experience. I will be diving deep into every aspect of my experience at this lodge, from the key features to the comparison with similar hotels, pros and cons, and much more.
Table of Contents
Location of Greystone Lodge on the River
Greystone Lodge on the River is conveniently located in the heart of Gatlinburg. Here are the detailed address and contact information:
Address: 559 Parkway, Gatlinburg, TN 37738, USA
Phone Number: 1 800-451-9202
You Can Book The Greystone Lodge on the River By Clicking Here
Directions to the Location
From McGhee Tyson Airport (TYS):
The drive from the airport to the hotel is approximately 1 hour and 10 minutes.
Head northeast on Tyson McGhee Park SW
Slight left to stay on Tyson McGhee Park SW
Turn left onto US-129 N/Alcoa Hwy
Keep right at the Y junction, follow signs for John Sevier Highway
Merge onto TN-168 E
Use the right 2 lanes to take the ramp onto US-441 S
Keep left at the Y junction to stay on US-441 S, follow signs for Sevierville/Pigeon Forge/Gatlinburg
Continue on US-441 S to your destination in Gatlinburg
The Greystone Lodge on the River will be on your right.
The Hotel's Design and Quality
The Greystone Lodge's aesthetic pays homage to the charming mountain architecture, with wooden accents, and a rustic yet modern design. However, the quality of the lodge far exceeded its quaint exterior. The rooms were well-kept, clean, and comfortable, with most featuring large balconies overlooking the Little Pigeon River. The lodge provides 241 rooms, offering enough variety to cater to different visitor preferences. Each room is equipped with modern amenities like air conditioning, a desk, a coffee/tea maker, a private balcony, and many more, ensuring a comfortable stay. The lodge's design and quality surpassed my expectations and added value to my stay.
Greystone Lodge is designed to offer a blend of comfort, convenience, and rustic charm, perfectly complementing the natural beauty of the Smoky Mountains.
Exterior Design and Views
The hotel's exterior is reminiscent of a traditional mountain lodge, featuring a combination of stone and wood elements that blends harmoniously with its surroundings. It's situated on the banks of the Little Pigeon River, enhancing its natural, tranquil setting. From the moment you approach the hotel, you're greeted with beautifully maintained grounds and local flora, creating a serene environment.
From many areas of the hotel, including some rooms, the pool area, and outdoor sitting spaces, guests can enjoy stunning views of the river and the adjacent landscape. The setting provides a sense of seclusion and tranquility, even though the hotel is located right in the heart of Gatlinburg.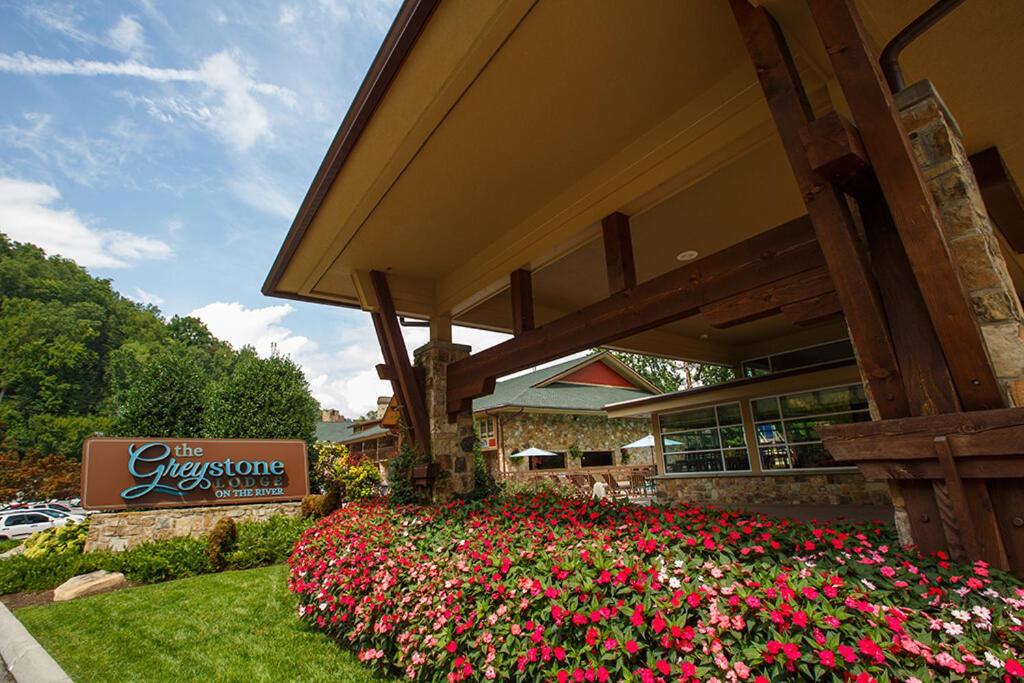 Interior Design and Room Features
Upon entering the hotel, guests are welcomed into a cozy, rustic-style lobby with comfortable seating and a warm, inviting atmosphere. The design throughout the hotel leans towards a blend of modern and rustic style, creating a cozy yet contemporary aesthetic.
The rooms at Greystone Lodge continue this design ethos, providing a warm and comfortable space for guests to unwind. The interiors are tastefully decorated with earthy tones, wooden furniture, and local artwork, all of which contribute to a sense of home-away-from-home.
In terms of functionality, rooms are equipped with a range of modern amenities. Flat-screen TVs, coffee makers, microwaves, and refrigerators come standard in all rooms for convenience. The private bathrooms are well-appointed with quality fixtures and complimentary toiletries.
One of the defining features of the rooms at Greystone Lodge is the private balconies. Most rooms offer this feature, providing guests with their own personal space to take in the breathtaking views of the river and surrounding landscape. It's a perfect spot to enjoy your morning coffee or simply relax after a day of sightseeing.
Furthermore, the suites offer added luxury with separate living areas, larger bathrooms, and additional amenities like a kitchenette, making them ideal for longer stays or for families.
Overall, the design of Greystone Lodge seamlessly blends the charm of rustic mountain lodging with the comfort and convenience of modern amenities, all while providing stunning views of Gatlinburg's natural beauty. It's a design crafted to ensure that every guest's stay is comfortable, enjoyable, and memorable.
In-depth Analysis of Key Features and Functionality
Greystone Lodge on the River offers a unique combination of features and amenities to enhance the comfort and convenience of your stay in Gatlinburg. Here are some of the key features and functionality of the place:
Accommodation: The lodge offers several types of accommodations, including standard rooms, suites, and mini-suites, all equipped with modern amenities such as flat-screen TVs, coffee makers, refrigerators, and microwaves. Most rooms also feature private balconies with river views, giving guests a sense of tranquility amidst the bustling downtown area.
Location: One of the primary features of Greystone Lodge is its excellent location. Situated in the heart of Gatlinburg, the hotel is within walking distance to top attractions such as Ripley's Aquarium and Gatlinburg SkyLift Park. The hotel's proximity to the Gatlinburg Convention Center and the shopping district makes it an ideal base for both business and leisure travelers.
Outdoor Pool: Greystone Lodge features two outdoor pools with a slide for children, making it a family-friendly option. The pool area is a great place to unwind after a day of sightseeing.
Complimentary Breakfast: The hotel offers a daily complimentary breakfast to its guests. This not only adds value to your stay but also provides a convenient start to your day.
Riverside Setting: The hotel is located on the banks of the Little Pigeon River, offering a peaceful and picturesque setting. The riverfront seating areas are perfect for relaxing and enjoying the natural surroundings.
Trolley Service: The trolley service provided by the hotel is another notable feature. It stops right in front of the hotel and covers most of the Gatlinburg and Pigeon Forge area, offering a convenient way to explore the region.
Free Parking: Unlike many hotels in the area, Greystone Lodge offers free parking to its guests. This can result in significant savings, especially for those who are driving.
Customer Service: Many reviews mention the friendly and helpful staff at Greystone Lodge. A hospitable and responsive staff is a key feature of any hotel, contributing to a positive and memorable stay for guests.
Overall, Greystone Lodge combines comfort, convenience, and good value, making it a great choice for anyone visiting the Gatlinburg area. Whether you're looking to explore the city's attractions, experience nature, or just relax, this lodge has features that cater to a wide range of traveler needs.
Comparison with Similar Hotels
In comparison to other hotels in Gatlinburg, the Greystone Lodge stands out due to its exceptional location, quality service, and excellent value. It's situated near the heart of the city, offering easy access to attractions like Ripley's Aquarium, Anakeesta, and Ole Red. Many hotels in the area lack such a prime location.
Furthermore, the staff's friendliness and professionalism far exceeded that of other hotels. From the front desk to the housekeeping team, everyone was incredibly accommodating, making the stay more enjoyable.
Why Greystone Lodge is Better Than Other Hotels
The Greystone Lodge's main strength lies in its superior location, which allows guests to explore the best of Gatlinburg effortlessly. Its well-appointed rooms, attentive staff, and amenities like free internet, parking, and breakfast offer excellent value for money. Many guests have highlighted the cleanliness and comfort of the rooms, suggesting that the lodge prioritizes quality over quantity.
Below is a comparison between Greystone Lodge on the River and other notable hotels in the region:
1. Greystone Lodge on the River vs. The Park Vista – A DoubleTree by Hilton Hotel – Gatlinburg
Location: Both hotels have great locations, but Greystone Lodge's location is more centralized in Gatlinburg, making it easier to walk to nearby attractions. The Park Vista, on the other hand, offers more scenic views due to its hilltop location.
Amenities: The Park Vista offers a range of amenities such as a fitness center, indoor pool, and business center, which aren't available at Greystone Lodge. However, Greystone Lodge does offer a trolley service right in front of the hotel, a convenience not offered by Park Vista.
Price: Greystone Lodge generally has more affordable rates compared to The Park Vista, making it a better choice for budget-conscious travelers.
2. Greystone Lodge on the River vs. The Appy Lodge
Location: Both hotels are well-located in Gatlinburg. However, Greystone Lodge is closer to the heart of Gatlinburg, offering easier access to attractions like the Ripley's Aquarium and the Gatlinburg SkyLift Park.
Amenities: The Appy Lodge offers some amenities not available at Greystone Lodge, such as a gym and a bar. Both hotels offer free Wi-Fi, free parking, and a pool, but only Greystone Lodge provides a trolley service.
Price: Both hotels are in the same general price range. The choice between the two may come down to a balance of price, location, and desired amenities.
3. Greystone Lodge on the River vs. Bearskin Lodge on the River Hotel
Location: Both are riverside lodges, offering picturesque views. While Bearskin Lodge is situated near the Great Smoky Mountains National Park, Greystone Lodge is closer to the Gatlinburg downtown area.
Amenities: Both hotels provide similar basic amenities, including free Wi-Fi and free parking. However, Bearskin Lodge also offers a fitness center which is not available at Greystone Lodge.
Price: Prices at both hotels can vary depending on the season and room type. However, they are generally in a similar price range. The choice might come down to whether you prefer to be closer to the National Park (Bearskin) or downtown attractions (Greystone).
Remember that choosing a hotel depends on your individual needs and preferences. You should consider factors such as location, amenities, price, and the type of experience you're looking for.
Pros and Cons
H3 Pros:
Excellent location with easy access to attractions.
Clean and cozy rooms with modern amenities.
Outstanding service from friendly and professional staff.
Free high-speed internet and parking.
Fitness center and outdoor pool for recreation.
H3 Cons:
Some visitors noted that breakfast could use more variety, including meat options.
A few guests mentioned minor issues with the air conditioning units.
Tips and Tricks for Staying at Greystone Lodge on the River
Room Selection: Ask for a room that faces the river, as these rooms provide the best views. Some rooms also come with a balcony which is an added bonus.
Early Check-in: While standard check-in time is at 4 PM, you can call ahead and request for early check-in if necessary. They will accommodate your request if the room is ready.
Breakfast Options: If you want more variety for breakfast, particularly meat options, there are several eateries nearby that serve breakfast. You can check with the front desk for recommendations.
Parking: The hotel provides free parking. However, it can fill up quickly during peak seasons, so try to arrive early to secure a spot.
Discount Tickets: The hotel often has discount tickets for nearby attractions and shows. Be sure to ask the front desk for any available deals.
Local Transportation: Take advantage of the Gatlinburg Trolley system. A stop is conveniently located right in front of the hotel. It's a cheap and efficient way to explore the area without needing to drive.
Reservations: As this hotel is quite popular, it is advisable to book your rooms well in advance, especially during peak travel seasons.
Non-Peak Travel: For a more peaceful stay, consider visiting during non-peak times. The crowds will be fewer and you might even snag a room at a lower price.
Summary of User Experiences and Testimonials
A quick glance at online reviews shows that many guests have had a positive experience at the Greystone Lodge. Many have praised its ideal location, clean rooms, and helpful staff. While some guests found the breakfast selection a bit limited, the overall consensus is that the lodge provides excellent value for its price.
FAQs
Is the Greystone Lodge on the River pet-friendly?
No, the Greystone Lodge on the River is not a pet-friendly establishment. However, service animals are always welcome.
What is the check-in and check-out time?
Check-in starts at 4 PM, and check-out is at 11 AM.
Does the hotel offer shuttle services to the airport?
No, the hotel does not offer shuttle services to the airport.
Is there a swimming pool?
Yes, there is an outdoor pool available for guests.
Is there a gym or fitness center?
Yes, the hotel has a fitness center equipped with basic workout equipment.
Are there special facilities for families?
Yes, the hotel offers family rooms and children's television networks.
Does the hotel offer free parking?
Yes, the hotel provides free parking to all guests.
Conclusion
In conclusion, the Greystone Lodge on the River provides an excellent balance of comfort, service, and location for its guests. Its clean rooms, scenic views, and central location make it an excellent choice for all types of travelers, from solo voyagers to families. Despite a few minor hitches like the absence of meat during breakfast and some rooms' air conditioning issues, the majority of guests were satisfied with their stay. The general consensus is that this hotel offers excellent value for the price, and many guests expressed their intent to return. If you're planning a trip to Gatlinburg and want a central location with the tranquillity of a river view, the Greystone Lodge on the River should be on your shortlist.