Gatlinburg Cabin Booking Guide
I have to say finding Gatlinburg lodging is easy to do as you have a large number of hotels to stay in. However, sometimes you may not want to stay in a hotel and honestly, I can say I do not blame you. I know some people, prefer staying in a bed and breakfast and others will want to stay in a cabin. Well, I will say since opening this site up and helping travelers to Gatlinburg find things to do, but also find a place to stay while traveling it has opened up my eyes to the different cabins that are available in the region. What really sets a cabin apart is the peace you get, but with all the different cabins available in the region, how can you figure out which one to book and which ones should you avoid? Well, I came up with the Gatlinburg cabin booking guide that I know can help you find the best place to stay and know your vacation will be amazing and it is because you have found the best place to stay while in town.
Number Of People The Cabin Sleeps
I never really used to think about the number of people the cabin would hold until I had kids. Now, the primary thing that I have to think about is how many people a cabin will sleep. That is because I have kids and obviously want them to be able to enjoy Gatlinburg with the rest of us and that means sleeping in the same building. Yes, I know some parents are saying they can have a cabin of their own, but for me that detracts from the experience of Gatlinburg as a family vacation spot and that is why I look for how many people the cabin will sleep. Why else you need to consider the number of people the cabin sleeps it is can make a difference where you stay.
Now, you may be asking what I mean by the determining factor since many people travel as a family, but I have to say I have found through our Facebook page, Travel To Gatlinburg, that a lot of larger groups travel to Gatlinburg and want to stay in a cabin. One group was from an assisted living community and they were traveling with 24 people, not including the staff and needed a cabin or group of cabins. Thankfully, we were able to help them in locating a cabin that had the space requirement met, but it went to prove that considering the number of people the cabin can sleep is easily one of the most important things to do.
Where Is The Cabin Located
I know that Gatlinburg is not that big of a town in relation to say Miami or Orlando. However, if you take in the entire area that everyone tends to gravitate to like Pigeon Forge and the Great Smoky Mountains, the chances are going to be good that the size of the trip will be quite a bit larger than what you thought at first. For example, if you are in a cabin that is located closer to Sevierville then it would take longer to reach the Great Smoky Mountains National Park compared to a cabin that is located in Gatlinburg itself.
What else the location of the cabin can tell you is what kind of additional fees you may have to pay. Now, you could be scratching your head, like I was at first, and trying to figure out what I am talking about. Well, some of the cabin locations are inside of resort type of neighborhoods. These neighborhoods are very nice, but at the same time they do have additional fees required of the cabin owner and often these fees are passed onto you when you rent the cabin. The good news is once these fees are paid you get access to the resort area and that often makes it easier for you to have a great trip.
A major consideration I make in looking at the cabin locations is what kind of neighbors are around. Yes, some of the cabins do have neighbors that are right on top of the cabin you are staying in, which gives you the feel of a hotel room instead of a cabin. While other cabins we have seen are situated on a couple of acres of land. This allows you to have the chance to sit outside and enjoy the smells and sounds of the mountains without the worry about the crowds or being interrupted when you are sitting outside by the neighbors in the other rental cabin next door coming home.
The Rooms In The Cabin
With most of the cabins in Gatlinburg, they are going to have multiple rooms. Typically the cabins will have a couple of bedrooms, kitchen, dining room, and a living room. However, what I have found is quite a few of the cabins will have additional rooms inside of them. These extra rooms often are available for a variety of activities, but they are all typically going to be family friendly and often make the trip you are taking to Gatlinburg even more enjoyable than what you think.
Entertainment rooms are definitely going to be an amazing option for you to consider. These rooms are just like what you would think as they are a room that will have an entertainment system inside of it. Typically this will have the comfortable chairs you may have come to expect in a luxury type of setting, but also have a larger screen television or even a projection screen that you are used to seeing in a movie theater.
Gaming rooms are another room you may commonly see in the cabins in Gatlinburg. In some of the cabins, you may notice the rooms are not really updated and use some of the older style arcade games. Other game rooms are completely updated with the latest systems you can find, but have a limited selection of games. However, a common theme that we have seen in a lot of the cabins is the foosball, air hockey, and even a pool table. No matter what, though, a game room definitely gives you some options on what you can do when you are killing time before going out to eat, heading to the mountains, or just unwinding from your day in the mountains.
A Deck Or No Deck
A deck is a great way to experience Gatlinburg and just sit outside protected from the elements and often have an area to eat at as well. I guess the best way to think about a deck would be a balcony off of your hotel room, but with a lot more space and the chance to actually do things and enjoy doing them. I know one amenity that often comes with the cabin deck is a hot tub or a grill. Sometimes you will find both of these at the cabin and it definitely makes for an enjoyable time.
As a side note if you have little kids that like to venture outside make sure the cabin's deck is kid safe. This means railing that is properly installed and that the spacing in between the rails is close enough that you do not have to be concerned about your little ones getting through the railing or getting stuck in the railing. Remember most of the decks are a story or two up and this means they will have the temptation to get close to the edge and like most kids, they can misjudge and fall, which would not be the way you would want to spend your dream vacation.
Amenities The Cabin Has Available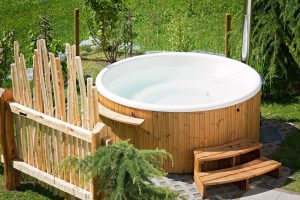 Quite often one of the main things you, if you are like most of us, will be looking for is what the cabin has available in the way of amenities. Yes, it may sound odd saying to look at the amenities since a lot of the information that has been listed already could be considered an amenity, you need to realize not everything listed can be considered an amenity. Which is why I have decided to include looking at the amenities the property has available.
A key thing to consider would be referring back to what we talked about earlier with the resort locations that some of the cabins are located inside of. These cabins since you are paying the extra fee already allow you to have full access to the resort as well. Now, not all of the resorts are the same and some of the features may be closed when you visit. A good example is if they are using an outdoor pool and you visit in December do not plan on swimming, but if you are looking for an amenity like a wave pool in summer and the resort has it available, then you can. So make sure you check out not only the amenities the cabin itself has, but also the amenities the resort may have for the cabin to be available as well.
Size Of Land The Cabin Has Available
We touched on this briefly earlier about looking at the size of the lot the cabin has. You may have never thought about this before, but if you look at the size of the cabin lot it makes it quite a but easier for you to find the cabin in Gatlinburg that has enough land for you to enjoy and know the cabin and the quietness it can provide you for the enjoyment of the mountains. I have to admit like I said earlier, the size of the lot also tends to make it easier for you to enjoy the yard with your family, but also avoid having a neighbor that would be sitting right on top of your cabin.
Cost Of The Cabin Rental
A cabin is a great way to stay in Gatlinburg, but the cost can be rather high at times. Since this is the case, you need to make sure you know about the cost of the cabin rental. The cost will vary quite a bit on the cabin and typically all the factors above. However, you will find that some of the cabins have some hidden cost as well like cleaning fees and other factors that can really impact how much it will cost you to get the cabin. It is important when you do book a cabin you make sure you know the entire costs and know exactly how much it will cost.
A common factor that catches people is the cleaning cost as they do not take into account the cost of cleaning the cabins when they book. Generally, this cost is in addition to the price you already pay per night and is one of those aspects that is listed as extra bills or cleaning bills. The good news is the cost for the cleaning generally comes up once per stay, but it is one of those factors you need to be mindful about.
Deals With Any Attractions
Just like the hotels, it is possible that some of the cabins have deals worked out for their guest to use. These attractions are going to be a good thing for you to enjoy and often are very family friendly for you to partake in. Typically, the deals that are available are discounts and not free tickets, but it is important that you ask because the old saying is you will never know unless you ask. At the same time, though, realize that if you are getting tickets for a show they are most likely added into the cost of the cabin like I mentioned above as one of the cost that can be seen with the cabin.
Most Important Thing Have A Great Trip
Gatlinburg is an amazing city and a great vacation destination. Just like any buyers guide, though, you will notice some things will apply to you and others will not. However, one thing that you need to do is to make sure you have fun when you are in Gatlinburg. Using the Gatlinburg cabin booking guide is a start, but no matter what you pick out as your Gatlinburg lodging you are sure to have a fun time when you travel to Gatlinburg.