Chapel At The Park – Gatlinburg Wedding Location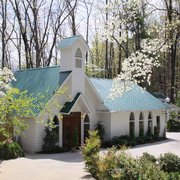 Getting married in Gatlinburg can be exciting and for a lot of people, it often means they are going to elope from the headaches of the normal type of weddings they would have had to face at home. What else is great for people when they are thinking about getting married in Gatlinburg is all the different locations, which we have already covered the types of locations and what you need to get married in a different article. However, we also mentioned we would be covering more in-depth the different wedding chapels that are in the Gatlinburg area and one of those that we have decided to cover first is going to be the Chapel at the Park. In this review of Chapel at the Park, we will provide you with the location, what services they offer, what people think of the chapel, but also let you know more about what is close by to the chapel to help you know where or what you can go out and do as soon as you get done with the wedding.
Location Of Chapel At The Park
Well, I have to say knowing where to go when you are getting married is key. It is never a good start to a marriage if you get lost on the way to the chapel or the church. So I will mention that this is definitely a great place that is very easy for you to find because it is well marked and well, a wedding chapel, is not typically hidden in the middle of a bush or anything like that. With that being the case here is the address and a small little map that should make it easier for you to find the chapel.
1844 East Parkway
Gatlinburg, TN 37738
1-800-693-6479

Unlike a lot of the restaurants and other locations that we have talked about the hours are really going to vary here and depend more on what you are looking for. The key thing that you need to realize is the chapel is going to require you to have reservations for the bookings. However, you can contact the chapel at the phone number we have listed above and it will be very easy for you to make the reservations you need to have for the marriage you are going to love to have. Not to mention this will make it easier for you to get the chance to talk to the staff to determine what type of wedding package will work best for you.
What The Wedding Chapel Offers
Well, when you are looking at this wedding chapel you will notice they do have several different packages available. These packages are going to vary in price and the availability of the chapel as well. However, they do have several different packages that you are going to love because it will make it easier for you to have a great time getting married and allow you to find a package that will suit your budget, instead of having to settle for a wedding that is not going to be what you want to have or have the fairy-tale wedding you have dreamed of having.
If you are in a hurry and already have everything in place, from the wedding license to the clothing and everything else then you will like the fact this is a place that you can make the 30-minute reservation. This type of reservation will take you and the bride or groom and the pastor with the photographer. The entire thing will take 30 minutes to get married and then you will be hitched and be ready to go on with your life.
On the website for the Chapel at the Park, you will find that it is going to be easy for you to learn about the specials being offered at the chapel at any point in time. You can find the specials on the website by clicking on the link that you can find here.
Depending on the package you select you will have the option for almost everything you would need to have for a wedding to be completely happy. This can be something that can range from anything from the photographer to a limo. You may even find these locations even offer a variety of rental packages as well, as we mentioned in our Gatlinburg wedding article. So this will definitely make it easier for you to book your entire wedding from the exciting day to the honeymoon that you may want to have in the beautiful Gatlinburg area.
What Do Others Think
The staff is one of the bragging points that everyone has talked about with the chapel that you are going to find here. While you may even find the different packages to suit your needs, the pastor is going to take the same time to ensure you are happy, but also to play off of your personalities as well. This will make it easier for you to have a great time because the pastor can easily put you at ease and guarantee you have a good time while being married.
With the photographer, you may find that it is going to be easier for you to get the pictures you want to have. However, what is really nice is the fact the photographer is usually able to work with you on the pictures and guarantee they capture all of the images you would want to have when you are getting married. So this is definitely going to help you out in getting the wedding moments captured like you want to have them captured.
All of the reviews also mention the beauty of the area as well. This is going to make it easier for you to have a great wedding and be able to pick out the location you would like to be married at. For example, the location will have some beautiful outdoor locations that you are going to find as being a very beautiful wedding outdoors. However, if you are looking at the indoor you will notice the wedding chapel has a beautiful church type of feel to it.
My Final Thoughts
Marriage is something that is a very serious matter, but sometimes you cannot afford the cost of a traditional wedding. This is when you should know that Chapel at the Park is a great location that has a variety of packages that will make it easier for you to have a wedding you can enjoy and know it will work great for you as a newlywed couple. No matter what, you will find the Gatlinburg wedding chapel is going to be one of the best ways for you to find as a way to start getting married in Gatlinburg.