Getting Married In Gatlinburg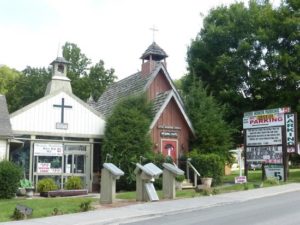 Gatlinburg is often seen as a vacation destination for a lot of people, but for engaged couples, they may want to start to consider some of the wedding locations that are in Gatlinburg. While this may not seem like a place that would come across the mind of people who are looking at the different wedding locations, you need to realize this is a city that has the perfect backdrop for any of the weddings you would want to have. What else helps is the fact this is a location that has plenty of beautiful wedding chapels for you to select from. Now, I will tell you the chapels can get booked really early on and if you are not careful you could miss out on the chance to have a Gatlinburg wedding like you would want to have. Some couples, may not be convinced yet about why you would want to get married in Gatlinburg and that is understandable. However, to help convince you I am going to share some of the reasons why getting married in Gatlinburg is a great idea and how the different wedding locations can make a big difference in how much fun your Gatlinburg wedding will be.
Wedding Locations Abound 
Well, when you are getting married you know that one of the hardest things you have to do is figure out where you are going to get married. For some people, this is very easy as they want to have a traditional church wedding at the church they were raised in. Which is completely understandable and it is definitely something that I can agree with, However, other times people just want to get away from all the headaches of organizing a wedding in their church and this is completely understandable as well. So, with that being the case, what exactly do I mean by wedding locations abound in the Gatlinburg area? Well, I am going to expand on that here in just a second.
Wedding Chapels 
When you think of a wedding chapel you may think instantly of those cheesy drive-thru ones you see people hitting up in Las Vegas or other places that are known as the marriage capital of the world.  However, the chapels you will find in the Gatlinburg area are far from being anything like that. The wedding chapels in Gatlinburg  are typically run by pastors from the local community, but they are also going to be the type that will require you to get the marriage licenses and everything that you would need to get married. This way your wedding will be legal and valid. At the same time, unlike most of the chapels you see on the movies these are generally going to be located in areas of the mountains or the city itself that you would be proud to have pictures taken.
A good example of this is one of the chapels, that I plan on covering, is located in a little cove type of area. With a pond and a feel that you are going to be inside of a church, instead of just a little chapel. So it is easy to see that you can find multiple chapels to get married in. The best part is these chapels are going to have enough room and space that will make it feel like you are getting a traditional type of wedding and know it is going to work for fulfilling the wedding that you want to have in a wedding, but also have a chance to elope at the same time.
What else is nice about the wedding chapels is they tend to have plenty of space for you to bring guests to the wedding. While some of the chapels will be limited in how many people you can bring with you for the wedding, but if you get a banquet hall you could have more people for a reception. So if you are planning on bringing along some wedding guest to the celebration, you will want to make sure you know how many people the chapel is going to allow you to have inside of the chapel for the ceremony.
Beautiful Locations Outside Of Chapels
While a wedding chapel is a great way to get married, it is not going to be the optimal wedding locations for everyone. This is when some people will want to know about some of the different locations they can hold their Gatlinburg weddings at. A great location that a lot of people have used is getting a kind of impromptu and very small ceremony, typically with the reverend and the couple and possibly a witness or two to get married in the park. This is a great option if you are doing a very small ceremony and do not really want to have the expense of a wedding chapel.
Newfound Gap is a location that is inside of the park and it is definitely going to be a location you will like, but it is going to be a place that you are going to love because of the valleys and the mountains that are behind you. So this will definitely be a great place for a wedding photo opportunity, but also to get married really quickly. I will tell you if you are planning on getting married here, you may want to try getting up here earlier in the day to guarantee you are not going to be as heavily interrupted by the traffic that can come to this very popular area.
Finally, you may even find the mayors office, while not the most beautiful place in the city, can make a great place to go and check out for a potential wedding spot. This would be more of the traditional type of eloping that you are going to love. However, it will also make it easier for you to have a great trip that you are going to really fall in love with, in more than one way.
What Should I Bring With Me
Well, when you are preparing for any wedding you will need to bring some things with you. The key thing is to research what you will need to have to get a wedding license. Sevier County is the county that Gatlinburg is located in and it does have offices in Gatlinburg that can issue you a wedding license. You do have to pick this up in person and they do have some requirements that you have to adhere to. We found this list at http://www.seviercountytn.org/marriage-information.html which is going to cover all that you need and we suggest looking at the link to see what other information you may need to have. Here is the list from their website of what is required:
Both participants must be 18 years of age
Present a valid driver's license, or certified birth certificate along with a photo ID
Present a social security card
If not a United States citizen, you must present a valid passport
If either of you have been divorced or widowed, you will need to know the exact date that the divorce was final, or date of death. If the bride has had a name change in her divorce and has not had her name changed on her driver's license, she will need to provide a certified copy of her divorce decree
There is no blood test
There is no waiting period
License must be used within 30 days of issuance
License can be used same day as applied for
Fee for out of state residents is $41.00 cash, or we also accept Visa or Mastercard with a small processing fee
Fee for Tennessee residents is $101.00 cash, or we also accept Visa or Mastercard with a small processing fee.
The office for the marriage license in Gatlinburg is located at:
405 Regan Drive
Gatlinburg, TN 37738
So this is the basics of what you will need to get your wedding license in Gatlinburg. So this will help you out in getting started. The rest of what you are going to need really depends on what you are going to have for a wedding from anything from a chapel reservation to a full dress and party. The rest of what you are going to need for a wedding will really depend on what you are looking for in the wedding. This can include anything from flowers, the rings, and even the guest who may need to have directions and a hotel.
Are Wedding Hotel Packages Available
When you are coming to Gatlinburg for a wedding, you may want to inquire about the different wedding packages the hotels offer. This means you may want to contact the hotel you are staying at directly, to see what kind of wedding packages they have available. However, as another option, you may want to look at the chapel you are planning on getting married at.
Yes, you read that right contact the wedding chapel. In some cases, because Gatlinburg is a very tight-knit community and the business leaders are always helping each other out, you will find sometimes the wedding chapels will have deals worked out with the hotels and the cabins that are in the area. So this will definitely be something you need to consider when you are booking your hotel or honeymoon cabin for your Gatlinburg wedding.
Gatlinburg Weddings A Great Option
Well, I hope that you have some good ideas on why a Gatlinburg wedding is such a good option for your marriage. However, what you need to realize is marriage itself is amazing and something that I really love being in. With that being the case, you will find the wedding locations in Gatlinburg are amazing, but getting married in Gatlinburg will definitely give you something to talk about and remember for years to come. As a side note, we will be covering the wedding locations and wedding chapels in Gatlinburg in the future along with photographers.