Discover The Super 8 Downtown Gatlinburg Convention Center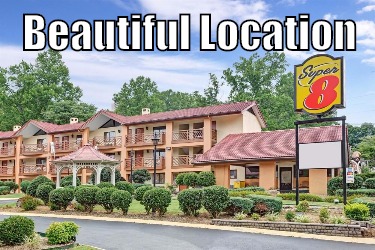 Staying a town as beautiful as Gatlinburg can be a great thing, but with all the hotels it is hard to pick out the best place to stay at. In our continuation of the hotel reviews of Gatlinburg we are going to cover the Super 8 Downtown Gatlinburg Convention Center. This is a hotel that is exactly as the name says and down by the convention center, but this also means it is going to be centrally located and can make it easier for you to get into town. Here are the pros and cons, along with directions to the location. With all of this information combined it will help you in making an informed decision on where you should be staying at the next time that you decide to take a trip to Gatlinburg. Without this, you could have some problems in picking out the right place to stay at and this can easily lead to you thinking the entire town of Gatlinburg is nothing more than a place that is all talk and no action.
What We Liked About The Super 8 Downtown Gatlinburg Convention Center
Their are several factors that we actually did find enjoyable for this being a Super 8. Usually, in our experience traveling the Super 8's are nothing to write home about. However, this location has several things going for it and one of the main things is the location. When you are staying in Gatlinburg you will be severely tempted to walk the Parkway because of shopping. The problem is parking is very difficult to find a parking space, but also very expensive to park. With this location you can easily park at the hotel, go to your room for a few minutes and then head out and walk to town because you are that close.
What We Did Not Like
The main complaint that we have is the breakfast, it is free, so you cannot expect much did not have a lot in the way of fruit offerings. We do not know if it is because of being a late riser or if that is all that was available. Either way, a little bit more in the way of fruit would really help out the breakfast as it is the type that would leave you wanting to walk into town to the Pancake Pantry to get some of the food that Gatlinburg is well known for.
[links_block id='518′]
Location Of Super 8 Downtown Gatlinburg Convention Center
The address of the Super 8 is as follows:
417 Historic Nature Trail
Gatlinburg, TN, 37738
To reach the location you will go past the aquarium on the main parkway. You will come up to Historic Nature Trail, which is at a red light. You will turn left onto this road and go up for a short ways. The Super 8 will be on the left hand side of the road, about half way up the road.
[review_bar id='518′]
While the Super 8 Downtown Gatlinburg Convention Center is a nice location, it may not be where you want to stay. If that is the case, make sure you check out our other Gatlinburg hotels.
[links_block id='518′]