Experience the awe-inspiring beauty of Anakeesta's Amazing Astra Lumina, a mesmerizing spectacle that effortlessly blends natural wonder with cutting-edge technology. This breathtaking immersive night walk takes you on a whimsical journey through a mystical forest, featuring stunning lighting effects and mesmerizing sounds that transport you to another world. Discover the vibrant colors of the illuminated forest, marvel at the intricate sculptures and installations, and lose yourself in the magical ambiance of this unique experience. Join us as we explore the wondrous world of Astra Lumina at Anakeesta, and immerse yourself in a truly unforgettable adventure.
What Is Anakeesta Amazing Astra Lumina
If you're a fan of out-of-this-world experiences, then you're in for a celestial treat! Anakeesta, the beautiful outdoor theme park located in Gatlinburg, has just unveiled its latest attraction – Astra Lumina – the enchanting celestial night walk. This unique attraction marks the 15th experience in the Lumina Enchanted Night Walk series and the first of its kind in the United States.
Visitors will be in for an incredible journey through a pathway of light, projection, and sound – all designed to connect you with the stars. Tickets for Astra Lumina can be purchased exclusively at www.anakeesta.com/astralumina for an experience that should not be missed.
In this article, we'll delve into the details of this celestial experience so that you can decide if it's the right one for you.
The Astra Lumina Experience:
Anakeesta's Astra Lumina is a breathtaking outdoor adventure that is set to take the night walk experience to a whole new level. The walk will take you on a journey through a mystical pathway of stunning light and sound show that is designed to make you feel completely immersed in a celestial world. Find out more information by checking out Anakeesta's Amazing Astra Lumina page.
Visitors will begin the experience by walking through a breathtaking garden of light, where they will be greeted by thousands of enchanted lights twinkling above them. As they venture further, they will encounter brilliantly lit creatures and fantastic projections on the ground, all inspired by the starry night sky.
As they step into the next level of the walk, visitors will be fully immersed in a celestial experience as they walk through a tunnel of stars. Soundscape and lighting effects have been expertly crafted to make visitors feel like they are walking through space. The interactive effects of the experience will likely make visitors forget that they're not really in space!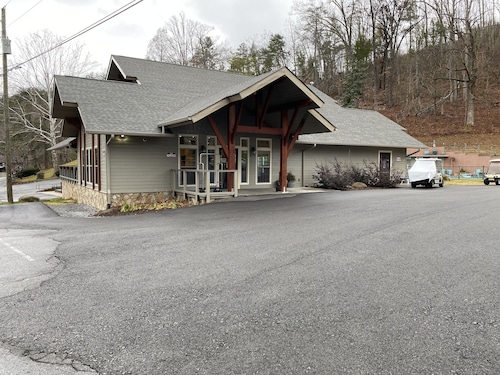 This is an affiliate link and if you book through the link I may get a small commission.
Carr's Northside Cottages and Motel is located a short 14 minute walk from the Ripley's Aquarium of the Smokies, Anakeesta and only a minute longer walk to traffic light 6. Carr's offers a seasonal pool, free WiWi, air conditioning, a kitchen and laundry area. For the crowded Gatlinburg area the free parking is definitely a plus.
The celestial journey continues to unfold as visitors find themselves surrounded by the galaxy, with stunning projections of different star clusters on the pathway. The entire walk is set amidst a beautiful forest setting which makes it even more enchanting.
Guests will also have an opportunity to get up close with a giant moon, and if they're lucky, may even have a shooting star passing through the sky right above their heads while they're on the walk.
Overall this stunning, the immersive experience is a must-see for anyone who wants to escape the everyday and be transported to an utterly magical world.
How to Buy Tickets:
To experience the magic of Astra Lumina at Anakeesta, tickets can be purchased online at www.anakeesta.com/astralumina. As one of the most popular attractions at Anakeesta, it's recommended that you purchase your tickets in advance, especially during the peak season.
Please note this is an affiliate link and by booking a room with this link we may get a small commission.
The Howard Johnson by Wyndham Downtown Gatlinburg is rated 8.2/10 on Expedia. The hotel is a short 3 minute walk to Ripley's Aquarium of the Smokies, but only 11 minute walk to Gatlinburg Skylift Park. The hotel offers a seasonal pool, free WiFi, air conditioning and with the crowded parking lots the hotel has free parking for guest.
FAQs
What is Astra Lumina?
Astra Lumina is Anakeesta's latest attraction – a celestial night walk that is designed to give visitors an out-of-this-world adventure.

What can visitors expect from Astra Lumina?
Visitors can expect to be fully immersed in a celestial experience, with soundscape and lighting effects expertly crafted to make them feel like they're walking through space.

What is the cost of tickets for Astra Lumina, and where can they be purchased?
Tickets for Astra Lumina can be purchased exclusively at www.anakeesta.com/astralumina. The cost may vary, so it's best to visit the site for updated pricing.

Where is Astra Lumina located?
Astra Lumina is located in Gatlinburg, Tennessee. It's one of the many attractions at Anakeesta, an outdoor theme park that offers a unique night walk experience.

When is the best time to experience Astra Lumina?
The best time to experience Astra Lumina typically varies based on the season. Visiting during off-peak seasons or on weekdays may increase the chances of avoiding long lines and crowds. It's best to check the website for specific hours of operation and special events.
Our Final Thoughts
Anakeesta's Astra Lumina is a celestial experience that is unlike anything else. It's a breathtaking journey that is sure to leave you in awe of the stars and space. For anyone who loves the idea of exploring the cosmos, this attraction is not to be missed. Buy your tickets now, and get ready to embark on a journey that will take you to the stars and beyond!
Please note the prices and availability varies and by clicking on the link above and booking with it I may get a small commission.
The Belle Aire Motel is rated 3 out of 5 on TripAdvisor. The hotel offers free WiFi, breakfast, but also has parking as well. The rooms do have air conditioning available and the front desk is staffed all the time. The Belle Aire Motel is an 8 minute walk from Gatlinburg SkyLift Park, but also is a 16 minute walk from Ripley's Aquarium of the Smokies.