Gatlinburg With Kids In Three Days
Traveling to Gatlinburg with your kids is going to be a very unique experience because often this is a place that can be used to form memories you are going to love. However, if this is your first time or hundredth time to Gatlinburg you will want to make sure you know what you can do with your kids in Gatlinburg in three days. Now we are going to think more of a three day weekend here because so many people like to take weekend trips with the kids because it means only a single or a couple of days of vacation, but also means more things are open in most cases. With that being the case, we decided to put together a little bit of things that you can do with your kids in three days from where to eat, to what to do. So here are the best things you can do with your kids in three days while you are in Gatlinburg.
How Did We Narrow Down Our List For The Three Day List?
Well, we took the information that we have and decided to combine it with our experience and what our own kids like. This is how we ended up narrowing down the list and for the food it was more of a combination of what we liked and enjoyed, but also what we think most kids would enjoy while they are in Gatlinburg. One thing you will notice is we did not put times down on the list that you would commonly get with itineraries and that is because we hate having people tell us a time so you can imagine how we would feel giving you times. So with that being said, here is what we like to do over three days and on which day with the kids, mind you we are considering this as three full days not checking in staying two days and leaving on the third day.
Day One In Gatlinburg With Your Kids
Now you will want to try to get an early start on your day here because it is going to really help you avoid a lot of the crowds. Not to mention a lot of the breakfast restaurants are going to fill up quickly with vacationers, this is very true on the weekends if that is the time you are going down to Gatlinburg. For breakfast on the first day the one location you may want to try out and one of our favorites is the Log Cabin Pancake House. We love this restaurant and it definitely provides you with a filling meal that you can enjoy before you head into the mountains. Yes, we want to get into the mountains on the first day because it is a lot of fun and definitely something your kids are going to like.
We mentioned the mountains as the first location we are going to go to and this will not be the first time that we go into the mountains. On the first day, while the kids are not yelling at each other from being stuck with each other for a long time we like to take the trip to Cades Cove. While Cades Cove is not in Gatlinburg, it is in the mountains and is easily one of the main attractions for you to see while you are vacationing in Gatlinburg if you want to enjoy the beauty of the mountains. The trip to Cades Cove and if you actually take your time going through the Cove will take almost all day. This is very true if you stop at the visitors center back towards the grist mill, which I definitely recommend doing because of the history lesson that is available from the location.
Now, by the time you get back into Gatlinburg it should be about three to four o'clock in the afternoon depending how many side trips you made in the mountains while going to Cades Cove, but also depending on how long it took you to get through the driving tour. This is actually a perfect time to go out and beat the rush that is often seen when you are getting out for dinner in the mountains. The first night in Gatlinburg we actually like to go to Blaine's Bar and Grill, before the crowds hit. Yes, even though the name says bar and grill you need to realize it is kid friendly. We just like to avoid the rush for dinner and get our meals before a wait is seen and before the location gets crowded.
After dinner we have a tendency to walk through town really quick and see what shops we want to go back to visit and shop at. However, we do not want to stay out to late with the kids and since we stay in a hotel with a pool you will want to get back and make sure the kids have a chance go back and swim in the pool for a little bit. This takes some time, but it is definitely a good thing because kids love the pool and enjoy swimming.
Day 2 In Gatlinburg With Kids
Now this is a day that you can sleep in some because we tend to make the second day a little bit lazier and more geared towards the kids and the adventures they would enjoy. Now to start off with we are going to eat a quick breakfast since we are going to be staying in town for the most part today. With that being the case we are going to start our day off with breakfast at the Donut Friar. Yes, the donuts you get from here are amazing, but what else is great is the coffee you can buy from here as well.
After you get some of the donuts and coffee you will want to take them back to your room, well what you do not eat that is. Then you will be able to surprise the kids by telling them that you are going to go to the aquarium for the day. Now the Ripley's Aquarium of the Smokies is another place that is going to vary on how long it takes you to get through and it is going to depend really on how much you want to see and how in depth you want to make your tour. For us we recommend at least spending three to four hours at the location. If your kids are old enough, then you will want to take them on the glass bottom boat tour as well, which is simply amazing and definitely a trip worth taking. Please note this is not included in the admission price so you may want to check that out before you tell the kids you are taking the boat.
Finally you will want to spend the rest of the day walking around town and doing some shopping. This is going to come in handy because we are going to recommend the Cherokee Grill as a great option for your second day in Gatlinburg for dinner. The food is good and the pricing is reasonable. The one downside is the grill is going to have some foods the kids may not like and depending on how your kids act it could be a little bit on the uppity side for them, even with the laid back atmosphere that is present here. After eating dinner we would recommend walking around town a little bit longer and then going back to the hotel so the kids can get some rest because the third day usually is a busy day.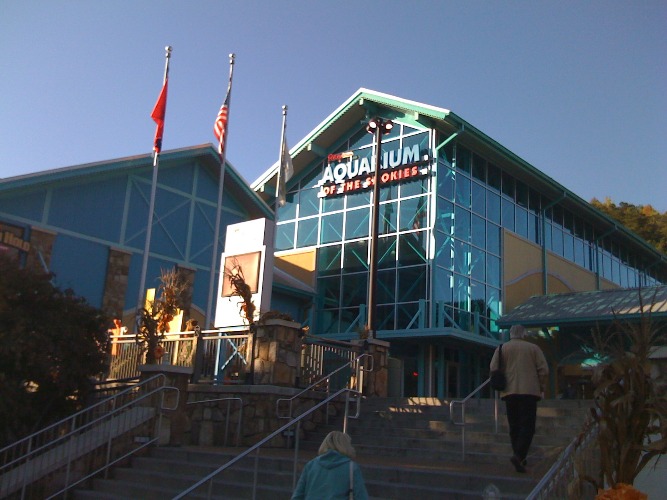 Third Day In Gatlinburg With Kids
Now is the sad day because it is the last day in Gatlinburg and the kids are going to want to do so much after seeing everything the city has to offer on the first 2 days. However, we recommend getting up early and hitting up a quick breakfast from a place like the Pancake Pantry. Now the breakfast part can take some time, but it is definitely worth it because today we would recommend a ride to one of two places and exploring the town some more with the kids.
The first place we would recommend going to is New Found Gap and Clingman's Dome. This is a beautiful place and definitely one that is going to take some time to get to. The last time it was about a forty to fifty minute drive up to Clingman's Dome from Gatlinburg. They are right next to each other, but Clingman's Dome is an additional seven mile drive give or take down a side road. Then the walk up to Clingman's Dome is well worth it and definitely something you are going to like to do.
If you want to stay closer to town and have more of a chance to enjoy the region then we would recommend taking the Historic Motor Nature Trail. This is a trail that is outside of Gatlinburg itself, but is historic in nature and winds you around the region. In fact, you will go in on one side of the city and come out on the other. The trail itself can take the good chunk of the morning and if you stop to admire any of the regions buildings or pull offs can take a little bit longer. After you have done this you may want to move onto Hillbilly Golf, which is a classic place to go and a must stop if your kids are old enough to enjoy a game of putt-putt golf.
For dinner, we would recommend hitting up No Way Jose's. Yes, it is Mexican and sometimes Mexican food can have some bad consequences, but not always and No Way Jose's definitely does not have those consequences. So hit them up for dinner and enjoy walking through town and heck if it is not to late treat the kids and yourself with a ski lift ride to the top of the mountain and back down. Great way to connect with each other as a family.
Thats All We Can Pack In
While you may have a chance to pack more things in, especially in walking through town. With our family if we try to pack anything else in the kids have a tendency to rebel and this means they are going to want to do anything but go home. Unfortunately three days is not a long time to go to Gatlinburg and have a great trip. So we do recommend making changes if you want, but we have found this is what works best for our kids and getting the most fun packed in for a three day trip to the mountains. Remember the mountains are calling and they want you to come and see them because Gatlinburg is definitely still around and a great place to go and visit.