How To Form Your Gatlinburg Vacation Plans
Making your Gatlinbug vacation plans means you are finally going to take the steps to get down to one of the most beautiful parts of America. However, it also means you need to figure out what you are going to want to see and do. I know that this can be a challenge because you are usually going to be crunched for time, but also need to make sure you squeeze everything in that you can and take full advantage of the beautiful city and the amazing Great Smoky Mountains National Park. Well, I got to thinking, how can I help you get the most out of your plans and that is exactly what I am going to offer here for you is a plan that can help you figure out what you should do. I do plan on publishing more in the future on planning and what you can do, but figured a general overview on planning your trip to Gatlinburg would be helpful.

(function(d, sc, u) {
var s = d.createElement(sc), p = d.getElementsByTagName(sc)[0];
s.type = 'text/javascript';
s.async = true;
s.src = u + '?v=' + (+new Date());
p.parentNode.insertBefore(s,p);
})(document, 'script', '//aff.bstatic.com/static/affiliate_base/js/flexiproduct.js');
Great Smoky Mountains
I have to admit one of the main reasons I travel to Gatlinburg on a regular basis is the fact that it is a jumping off point for the Great Smoky Mountains.  I tend to use the town and the hotel or cabin that I have booked as my central hub and just a place to sleep at night. After that, I have a tendency to be out in the mountains exploring and enjoying my time with my family outside and away from the nuisance of modern electronics. Yes, I have to admit writing a blog about Gatlinburg that you are hopefully reading and enjoying, but sharing as well while commenting on the negatives of modern electronics is odd. However, in the mountains I tend to lose cell signal, I do not have my tablet, phone, and definitely do not have my computer. The most that I have is my camera and that is so I can record the memories we are making as a family.
Now, I have to say that if you are looking at spending some time in the Great Smoky Mountains you will want to beat the crowds as the mountains get extremely busy and sometimes the crowds can detract from the beauty of an area. Nonetheless, you need to make a plan on how you are going to tackle the mountains and a time frame as to when you want to be at each attraction. For example, if you are in Gatlinburg in July and want to go to Cades Cove you need to realize it is busy all day and it can take you quite a bit longer going through the beautiful mountain valley.
By making a plan, though, you have a  chance to explore the area more of the mountains and start to research how long it will take for you to get through the region. What else this does is allows you to start to figure out more about how long you will be in the park and find some hidden gems that you can travel to. For example, some of the quiet walk aways are going to be one of the best ideas you can make. These will get you out into the mountains, but away from a lot of the crowds as well and they tend to be quiet and peaceful compared to what you could find at some of the attractions that are loud and crowded.

(function(d, sc, u) {
var s = d.createElement(sc), p = d.getElementsByTagName(sc)[0];
s.type = 'text/javascript';
s.async = true;
s.src = u + '?v=' + (+new Date());
p.parentNode.insertBefore(s,p);
})(document, 'script', '//aff.bstatic.com/static/affiliate_base/js/flexiproduct.js');
Museums In Gatlinburg
I know that Gatlinburg is often seen as the place to go and enjoy Great Smoky Mountains. However, if you have traveled to Gatlinburg during the rainy time of the year then you know sometimes the outdoor activities you are planning to do is eliminated. This can happen and I know that this is going to be a major let down because Gatlinburg is seen as the jumping off point by so many people. Well, that is why you need to have some backup plans for the mountains and that includes the museums and the aquarium.
The museums that are in Gatlinburg are often fairly niche specific and this helps you in getting to find the right place to check out. For example, the town does have the Salt and Pepper Shaker Museum. This location as you can imagine is one of those that is very specific, but it is amazing once you get a chance to see all the different types of salt and pepper shakers. If the salt and pepper shakers are not your thing, then you may find the Ripley's Attractions in town or one of the multiple art galleries in town. I have to say one must see museum that almost everyone is going to love is Ripley's Believe It or Not that recently expanded to have an even better time for the customers, which would be us.
One other place that is indoors and is a great way for you to explore your time is going to be heading to Ripley's Aquarium of the Smokies. The Aquarium of the Smokies is one that has actually been rated as one of the top rated aquariums in the United States for quite a few years and it is a place that has had quite a few great additions to it. One of these allows you to go out into the water, which is really cool, but you will find that it does take some extra money to get out on that. My favorite part, though, at the Aquarium of the Smokies is the underwater tunnel where you get to look up at the sharks and other fish.
Shopping A Plenty In Gatlinburg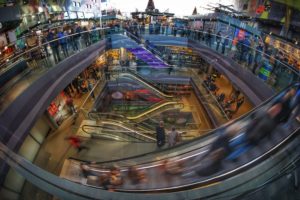 Shopping in Gatlinburg is a great way to pass the time and I will warn you it is also one of the more expensive way to pass the time. However, what I really love is that when you are in Gatlinburg you do have mainly unique shops that you do not find elsewhere. Yes, you do have some chain type of stores to shop in that will give you the products you may be familiar with and typically those are not located in the town center, but instead, are closer to Pigeon Forge and even Sevierville. If you are looking for a central type of location to find the shops, then you need to know about a couple of my favorite areas in Gatlinburg that has multiple shops inside of them and often are considered more of a mall type area, but one of them is a true mall and the other one is what I would consider more of an open-air mall with individual stores.
The Gatlinburg Mountain Mall is a great mall that is very easy to find in the middle of Gatlinburg. The mall does have quite a few shops inside of it, but like a lot of the malls it does have some turnover, which is to be expected. However, it is air-conditioned which makes it nice during the middle of summer in Gatlinburg as it is cool and definitely comfortable. Not to mention, it is a great way to walk some of town without having to get into the crowded and hot sidewalks.  One shop that I always check out when I am in this mall is the Tea and Botanical shop. I have to admit a lot of that comes from the fact that I love tea, but I enjoy the smells in the shop as well. What is really cool is you can find the latest mall information on their Facebook page by clicking here. Gatlinburg Mountain Mall Facebook Page.
The other shopping area you will find me hanging out in is The Shops at the Village. This place has quite a few unique shops that you can explore and in some cases, you will find supplies you need for the mountains. I personally love the hiking shops here because of the walking sticks they have available. The other thing that I really love at this location is the Donut Frair. I love this place for the wide variety of donuts I can find, but they also have some unique coffee drinks as well. No matter what, if you are looking for a quick breakfast, even if it is at 6 in the morning you will need to check out the Donut Frair inside of the Village. You can catch all the latest changes of what is happening in the Village shops on their Facebook page.
Eating Out At Restaurants 
Gatlinburg, as you know is a very small community if you take out the tourist population. While you may not live in a small community or you may live in one, you know that you often get some of the best range of foods to select from. Gatlinburg is one of those towns that definitely has the food options covered for you. The town itself has grown from only a small selection at the general store to get sandwiches that it used to have in the 1950's and 60's that my father-in-law would tell me about to having more restaurants to pick from than what you ever imagined and what is even better it is covering all the different types of food styles as well.
I know I mentioned the tea shop in Gatlinburg Mountain Mall earlier and I will tell you that this is going to be a great stop, but you will want to check out the tea shop as well. The Wild Plum Tea Room is easily one of the best places for you to check out as it does have a great stop for some snacks, but it also has nice drinks as well. It makes it very easy for you to sit down and enjoy a cup, but with the location being close to the Arts and Crafts community it does provide you a nice spot to have lunch before heading into the community to enjoy your day and see the arts area of Gatlinburg.
Now, I know that I did mention a wide range of food available in Gatlinburg, but I will be honest if I was to cover all the different types of food that is available in Gatlinburg. That is why if you look you can find the different restaurants in Gatlinburg by checking out our Gatlinburg restaurants category which has all the reviews we have completed of the Gatlinburg restaurants. You will find that you do have a wide selection of restaurant food types from the traditional Southern BBQ restaurants that everyone loves to the amazing breakfast locations, like the Gatlinburg landmark Pancake Pantry. All of these places you eat at if you are careful in the selection will give your palate a unique and amazing adventure.
Provide Free Time To Enjoy Each Other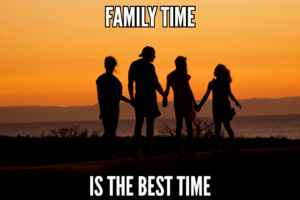 Now, I know when I am in Gatlinburg I want to spend time with my family. While it does sound odd, my teens actually do not mind hanging out with me either and that is something I cherish. So the key thing that you need to do is make sure you have enough time set aside to spend with each other. I do not mean to spend in the hotel in the room, but at the hotel pool, the waterparks, and other adventures you can find in Gatlinburg. One thing that I will tell you is just taking time and driving in the car with the windows down in the Great Smoky Mountains National Park can work as well. All of the mountain roads in and around Gatlinburg will leave you with plenty to talk about and if you pay attention to nature and not your electronics it provides the entire family with the trip of a lifetime.

(function(d, sc, u) {
var s = d.createElement(sc), p = d.getElementsByTagName(sc)[0];
s.type = 'text/javascript';
s.async = true;
s.src = u + '?v=' + (+new Date());
p.parentNode.insertBefore(s,p);
})(document, 'script', '//aff.bstatic.com/static/affiliate_base/js/flexiproduct.js');