Bearskin Lodge on the River Hotel is a top choice for many travelers visiting Gatlinburg. It offers a romantic setting and a range of amenities designed for a comfortable and convenient stay. This review will highlight the purpose and key features of the hotel, discuss its design and quality, analyze its key features and functionality, compare it to similar products, provide pros and cons, summarize genuine user experiences and testimonials, offer tips and tricks for getting the most out of the hotel, list nearby restaurants and attractions, include a FAQ section, and conclude with a recommendation for a specific audience.
Location Of The Bearskin Lodge On The River
Bearskin Lodge on the River is located at 840 River Road, Gatlinburg, Tennessee 37738. To reach the lodge, if you're coming from the north, take US-441 S/Chapman Highway and continue onto Parkway in Gatlinburg. Once you reach Parkway, turn right onto River Road, and you'll find Bearskin Lodge on the River on your left. If you're coming from the south, take US-441 N/Parkway and turn left onto River Road. The lodge will be on your left-hand side. The address, 840 River Road, Gatlinburg, Tennessee 37738, is easily accessible and serves as a starting point for your delightful stay at Bearskin Lodge on the River.
Design and Quality
Bearskin Lodge on the River Hotel impresses with its well-thought-out design and high-quality amenities. The lobby is cozy and inviting, featuring a fireplace, a gift shop area, and a mini "store" stocked with necessities. The rooms are spacious, clean, and comfortable, offering a balcony with a river view and a gas fireplace for added coziness. The decor is simple and rustic, matching the theme of the hotel. The hardwood floors add a touch of elegance, and the beds are exceptionally comfortable.
Key Features and Functionality
The hotel rooms are equipped with essential amenities such as a flat-screen TV, a refrigerator, a desk, and free Wi-Fi. Additional features include a mini fridge with freezer space, a microwave, a coffee maker, an iron and ironing board, and complimentary toiletries. The large walk-in showers and ample counter space in the bathrooms are particularly appreciated by guests. The housekeeping staff ensures that the rooms are well-maintained and stocked with fresh towels daily.
Comparison with Similar Hotels
Compared to similar hotels in Gatlinburg, Bearskin Lodge on the River stands out for its exceptional river view rooms, cozy gas fireplaces, and spacious accommodations. The attention to detail in the design and the high-quality amenities set it apart from other options in the area. Additionally, the hotel's convenient location near popular attractions and restaurants makes it an ideal choice for visitors.
Pros and Cons
Warm and welcoming staff

Cozy lobby with fireplace

Spacious and clean rooms

River view balconies

Gas fireplaces in rooms

Well-stocked mini "store" and gift shop

Complimentary grab-and-go breakfast

Convenient location near attractions and restaurants
Limited luggage carts

Small dining area for breakfast
User Experiences and Testimonials
According to online reviews, guests have had overwhelmingly positive experiences at Bearskin Lodge on the River. Many praise the friendly and helpful staff, the comfortable rooms, and the convenient location. Guests particularly enjoy the river view balconies, the gas fireplaces, and the complimentary breakfast.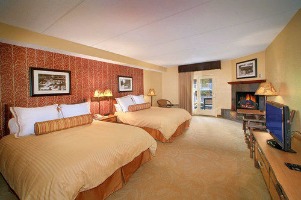 Tips and Tricks
To make the most of your stay at Bearskin Lodge on the River, here are some tips and tricks:
– Book directly with the hotel online for the best deals.
– Take advantage of the gas fireplaces in the rooms for a cozy evening atmosphere.
– Enjoy the complimentary grab-and-go breakfast for a quick and satisfying start to the day.
– Explore the nearby attractions and restaurants within walking distance.
Nearby Restaurants
Here are some nearby restaurants with brief descriptions:
– Gaucho Urbano Brazilian Steakhouse: A popular steakhouse offering delicious Brazilian cuisine.
– Cicis Pizza: A casual pizza chain known for its unlimited pizza buffet.
– Old Dad's: A family-friendly restaurant serving American comfort food.
– The Peddler Steakhouse: A renowned steakhouse with a charming rustic atmosphere and excellent steak options.
Nearby Attractions
Here are some nearby attractions worth visiting:
– Great Smoky Mountains National Park: A stunning national park known for its scenic beauty, hiking trails, and wildlife.
– Ober Gatlinburg: A mountain resort offering skiing, snowboarding, an aerial tramway, ice skating, and other activities.
– Gatlinburg Space Needle: An iconic observation tower providing panoramic views of the surrounding area.
– Ripley's Aquarium of the Smokies: A popular aquarium showcasing a variety of marine life and interactive exhibits.
– Gatlinburg SkyLift Park: A scenic chairlift ride that takes you up to a mountaintop park with breathtaking views.
Frequently Asked Questions
Does Bearskin Lodge on the River have a pool?
Yes, the hotel has an outdoor pool and lazy river.
Is parking available at the hotel?
Yes, the hotel offers complimentary parking for guests.
Can I bring my pet to Bearskin Lodge on the River?
No, the hotel does not allow pets.
Is there a fitness center at the hotel?
Yes, the hotel does have a fitness center.
Does the hotel provide shuttle service?
No, the hotel does not offer shuttle service.
Conclusion
Bearskin Lodge on the River Hotel is a charming and cozy accommodation option in Gatlinburg. With its well-designed rooms, beautiful river views, and convenient location, it provides a comfortable and enjoyable stay for guests. The hotel's attentive staff, cozy lobby with a fireplace, and thoughtful amenities add to the overall positive experience. Whether you're visiting for a romantic getaway or exploring the attractions of Gatlinburg, Bearskin Lodge on the River is a recommended choice for its quality and comfort.
If the Bearskin Lodge On The River does not suit you, make sure you check out our other Gatlinburg hotels.