Read The Review Of The Historic Gatlinburg Inn
The Historic Gatlinburg Inn is a place that a lot of people have shared memories in, but some people will find the location is one that they have never heard about before. I know for myself, I have not really heard of this location before, but according to TripAdvisor it is one of the highest rated hotels in Gatlinburg and this is a great feature. With this being the case, you will want to know some information about the Historic Gatlinburg Inn well before you book your trip. I know that this is a location that from the outside picture that I have posted to the left does not really do the amount of pleasure that you will find with this location. I know that for me, I tend to be judgmental of a place by how it looks from the outside, but I am really starting to see this is not something that I should be doing as a lot of places that I thought were going to be out of place are actually a lot better than what I am giving them credit for and I tend to be very picky. Without any further ado let us launch into the review of the Historic Gatlinburg Inn and this will help you in getting to see if this hotel is going to be the best location for you to stay at or if you should be staying at any of the other locations that we are going to be looking into.
Location Of The Historic Gatlinburg Inn
As we mention in almost all of these articles, the location is key when you are picking a hotel in Gatlinburg. I know that I like to stay in between the locations with the hotel being in walking distance of the strip, but far enough away that I do not have to deal with the traffic. The address of the Gatlinburg Inn is:
755 Parkway
Gatlinburg, TN 37738
The easiest way to find this location is to just stay on the main strip of Gatlinburg when you are at Ripleys Aquarium of the Smokies. When you are at this location, you will just continue heading towards the park entrance in town. Once you arrive you will see a big parking lot on the side and that is going to be the place that you will want to park at, which is nice because that means you have a parking space right on the strip almost. It is important to make sure you have your parking pass if you are parked here and staying here to avoid any towing fees.
Quick Shot Of The Historic Gatlinburg Inn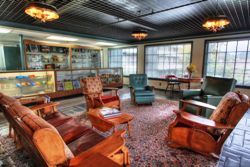 The Good
Outdoor pool.
Great staff.
Free WiFi and Parking
Gorgeous views.
Awesome breakfast.
The Bad
Reports of it being dated.
Needs updating in parts of the hotel.
Exterior Features Of The Historic Gatlinburg Inn
The exterior features of this location is going to be something that you will really like. I know that the hotel is located on the parkway, which is going to mean you are within easy walking distance of the downtown area of Gatlinburg. However, you will also find the location has a seasonal pool that is available for you to use outdoors as well. Views are something else that is rather enjoyable when you are staying at this location. Normally you would not think about this, but you will quickly find the hotel has some views that are going to be stellar and this is going to be something you will like. The key is this location is butted up against two roads and this is going to be something else that you will really like because it makes it easier for you to get around town by walking if you want to.
Walking distance to downtown (10 minutes to the aquarium).
Seasonal pool for you to use in the summer.
Rooms have balconies on them.
Amenities Offered By The Hotel
Sometimes you will find the hotel is going to offer some amenities that you will enjoy, but you will also find the hotel has some great amenities that are offered by themselves for all the guest. One of the main features that you will enjoy with the Gatlinburg Inn is the breakfast that is present. While most of the hotels anymore offer a breakfast, you need to realize this is a hotel that offers what appears to be a great looking breakfast. These pictures will be ones that are going to absolutely blow you away once you see them because I have to admit, in all the hotels that I have stayed in that had a breakfast offered you were lucky to find a bagel, let alone one that looks as great as this meal. So you are going to be able to enjoy the fact this is a hotel that is going to offer you quite a bit of options to get for breakfast.
The other main amenity that is offered by the hotel is going to be the access to the pool, which was mentioned in the outdoor section. The downside is the pool is seasonal and this can prevent you from getting into the pool all the time. However, it will be a place that you can easily enjoy the outside of the hotel and be able to enjoy the views that you will want to have. I know this may not seem like a great feature, but after a long day of hiking in the mountains nothing feels better than being able to take a dip in the pool.
Room Features At The Gatlinburg Inn
The Gatlinburg Inn has a variety of room options and for the most part will be able to perfectly match your needs with one of their rooms. However, what you need to realize is the room options are going to vary from the obvious single bed rooms, but also have some of the other rooms that are available as well. The Gatlinburg Inn tends to offer some of the different options that are needed. It is important to note that if you are planning on bringing your pet with you, that you will need to find a different location as the Gatlinburg Inn only allows service pets. So this is a key point to consider because the location is a stickler with the pets policy.
Traveling with your family is a great way to have your entire family see some of the beauty of a region. However, you need to realize that this is not always the case for some people as they will find it can be hard to have an infant with them. Since this is the case, they need to realize Gatlinburg Inn does allow children on the location, but they do not offer the cribs for babies. So you will need to bring along a traveling crib that you can find here. Outside of that you may need to book some of the rooms that have a double bed or other form of sleeping arrangement to ensure you are getting the most out of your trip.
Restrooms are key when you are staying at hotel. Normally, you would not think about this in your room. When you are using a hotel, though, you want to stay in a location that offers you a very nice restroom to use and will make it easier for you to get cleaned up from your trip that you are taking, but when you are in a location like Gatlinburg, the chances are you will end up getting around other people or even get stuck in the mountains and end up having to get cleaned up from a hike or even from sweating when you have been outside all day. So the restroom is a key point for you to consider as well.
With the modern day times, everyone wants to be connected to the Internet. The issue is when you travel, you often end up losing a lot of the access that you have with the Internet because you are on a different network. This is when you should realize this is a location that has WiFi for you to use for free inside of the room. This in turn is going to make it easier for you to be able to use the Internet in the room.
What Others Are Saying 
Cindy, a traveler who left a review mentioned, "the breakfasts were wonderful!"
A traveler from the US posted this, "The staff was amazing. Friendly and helpful! The room was very clean! We will stay at this hotel again the next time we go to Gatlinburg!"
Gary B. would say this in his review, "I would never stay anywhere else in Gatlinburg, but at the Gatlinburg Inn."
Delia, from the US, would say this about the location, which is on the neutral to negative side. "The building was built in 1937, so it smells really old everywhere."
As you can see not all of the comments are positive, but not all of them are negative as well. What makes even more sense about what I found to be the fifth rated hotel on TripAdvisor is the fact this is a hotel that is the fifth highest rated hotel out of all the hotels in Gatlinburg. Armed with this knowledge and the reviews I would have to say this is a great place to stay at.
Ratings Of The Gatlinburg Inn
For more great hotel options make sure you read our hotels page here.