Finding the best place to enjoy wine in Gatlinburg is very easy to do. All you have to do is start to explore Tennessee Homemade Wines and the tasting room. One you do this it will actually shock you that the wine was made in the Gatlinburg region and from locally produced grapes. No matter what, if you are new to wine or a wine fanatic the tasting room at Tennessee Homemade Wines in Gatlinburg is a must stop.
Location Of Tennessee Homemade Wines
Knowing where the attraction is located is half of the battle. Well that half of the battle will be solved here for you as we are going to give you the address and phone number of the place. This way you can easily locate the wine tasting room on your map and reach Tennessee Homemade Wines in time for a fantastic time tasting wines.
643 Parkway
Gatlinburg, TN 37738
Website: https://www.tnhomemadewines.com/
Features Of Tennessee Homemade Wines
Has multiple wines to sample in the tasting rooms.
All of the wines are locally crafted and for the most part are a sweet wine.
Has servers that are very knowledgable about the wines.
Locally grown produce is used to make the wines.
Can ship the wines with varying shipping times.
What Is The Best Wines
The best wines really is more of a taste preference. However, I have found that several different wines that are available at the tasting room and each of those are even better than the last one. Since this is the case, I am going to showcase a couple of my own favorites, which you may enjoy as well.
Growing up in Michigan we almost always got blueberries each year. Now, I know that for me finding a wine that catches all the flavor profiles and smells great is a blessing. So one of my favorite wines in the blueberry wine, which is really good with some nice hints in it.
You may remember the older country song called Strawberry Wine. I have to say how the song talks about the great taste of the strawberry wine I would say that it definitely holds true. This is definitely one type of wine you really need to try for some amazing taste and great balance.
Best Time To Go
This is a good question and definitely one that I did not really think about before. However, my quick answer is, is anytime a bad time to go out and drink wine at a tasting room?
Obviously part of me wants to say that it is not ever a bad time. However, being at the tasting room when Tennessee Homemade Wines first opens then I have to say that it would be very difficult to justify for a lot of reasons.
Now, the best time that I have found in general is more along the time that you get back into town and have you have some food. I do not recommend going to any tasting from the wine location or even the distilleries on an empty stomach. The other time would be before you go back to your hotel for the night, because at least you would be going back happy.
The Park Vista is a very popular hotel and rates vary depending on the time of the year, please click the link for more information.
The Park Vista is a family friendly hotel that is located in beautiful Gatlinburg and provides commanding views of the mountains. Check out all that the Park Vista has to offer at this pet friendly location.
Are Kids Welcome
A wine tasting room is not a place that you would expect to see children. However, when you are in Gatlinburg the chance of being able to leave your kids behind in the hotel is very low. The location understands that is an issue for a lot of people, which is why kids are welcome here.
Obviously your kids, unless they are of legal drinking age, will not be able to sample the wine. However, the kids will have plenty of people to talk to, but also the servers take plenty of time out and explain different things to the kids as well.
On a side note the location used to do samplings of apple juice and root beer for kids. However, at the time of this publishing and with COVID restrictions this is not in place currently. Still, it could come about again in the future so please make sure you check back or check-in with Tennessee Homemade Wines on their website, Facebook page, or even by giving them a call.
What Is The Atmosphere Like
If you have been to some of the different wine tasting rooms then you know that they can be a subdued atmosphere. Well, here that is not really an issue at all with the atmosphere being a great one and one that is very upbeat.
The location itself tends to be very upbeat, but laid back at the same time. You do not have to go into the wine tasting rooms all dressed up and in some cases just walking in off the street can work. Not to mention, when we talked to the lady just the other day she mentioned pets and kids were allowed into the room, unlike other places that require you to be dressed nicely and can only come in as an adult.
Something else that is great about the location is the staff. How many wine tasting rooms have you been to where the staff looks down at you because you are tasting the wine and not an expert. Here that is not an issue as the staff is great and will not only help guide you to the wine you want to drink, but also interacts with your kids as well.
What Is A Main Drawback To Tennessee Homemade Wines
While I am working hard to find some drawbacks I did find a couple. Now, this is not so much a reflection overall, but it is my opinion as to what I think people may view as a drawback.
A major drawback could be the price. This comes from the fact that the bottles that I did see are a little bit over 20 dollars a bottle. Now, I know that the wine I use daily for dinner is only 17.99 for a large bottle and imported from Italy, is not the best, but it is a good quality wine and one that fits my budget better.
Another drawback that has been widely reported and has been hit or miss is the experience you get depends on the bartender. Granted most of the staff is super friendly and more than willing to bend over backwards to help out, but this is not always the case. So their is a chance that you could end up with a bad bartender who can impact your entire tasting.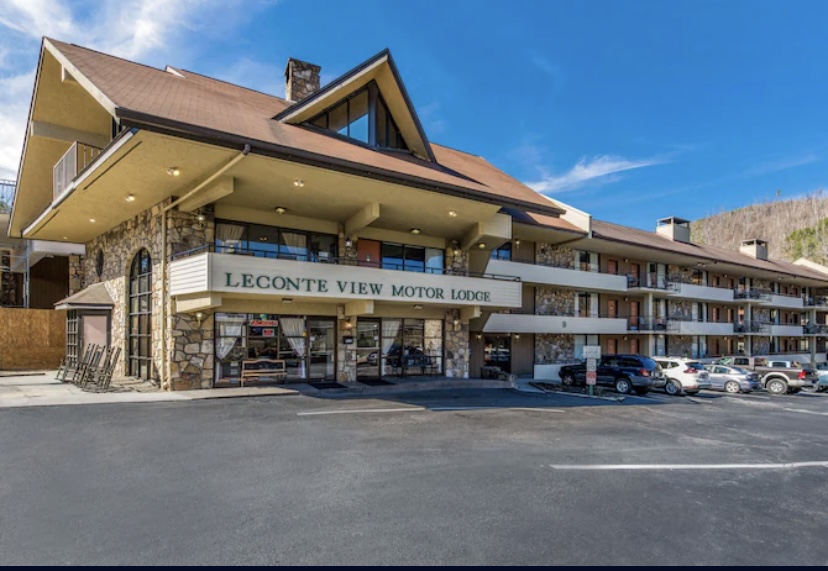 Price can vary depending on the season. Please click the link below to find out more. This is also an affiliate link and booking a room may lead to us getting a small commission.
Le Conte Lodge is rated at a 7/10 on Expedia. A short 3 minute walk to Gatlinburg SkyLift Park and only 9 minutes to Great Smoky Mountains National Park entrance. LeConte Motor Lodge has a pool, free WiFi, and free guest parking. LeConte Motor Lodge is a pet friendly location.
Pros And Cons
Location is easy to get to while walking.

The tasting is free.

Kids are welcome.

Great servers to help with the tasting.

Comfortable atmosphere for everyone.
If the server is having a bad day, the experience can be bad.

The wine compared to other bottles can be seen as expensive.
Who Would Like Tennessee Homemade Wines
The first group of who would like Tennessee Homemade Wines would be those that enjoy wine. That is a blatantly obvious example and one that a lot of people need to realize would love the place. The chance to taste the sweet wines here and get the fruit flavor will definitely make it easier for people to enjoy the wine.
The other people that are going to enjoy Tennessee Homemade Wines is the people who like fruit wines. The location has some great wines, but with the local produce and fruits being the backbone it is very easy to see why these are such an enjoyable wine to try and if you are like me take some bottles of wine home with you.
Room availability and price varies. Please click the link for the latest availability.
Sidney James Mountain Lodge is located not far from downtown Gatlinburg and has plenty of features. The features includes several pools to choose from, pet friendly room, free WiFi, and a restaurant to just name a few of the amenities on site.
Who Would Dislike The Tennessee Homemade Wines
The first group that would not like the location is the people that do not like wine. Yes, it is a good atmosphere and a great place to stop in at and enjoy wine, but if you are not a wine drinker than you would not care for the location. So please make sure you are aware of the limited selection here.
The other group that may not really enjoy the location that much would be kids. Since this is more of an adult type of Gatlinburg attraction the kids may not have as enjoyable of a time. That is even with the kids being completely welcomed at the location.
What Others Are Saying
While I do try to provide you quite a bit of information about the restaurant you may want to know more about it from other people. With that being the case, here is some great information that is from other people who have eaten at the location.
A reviewer from TripAdvisor, jfs39564, mentioned this about the server. "She made the whole experience fun". This is definitely one of the best aspects of the location and is reiterated time and time again with the reviews we have read about how great the servers are and the knowledge of the product.
Gabrielle K who was another reviewer from TripAdvisor had this to say. "Wine was great". Now, this is a matter of taste and some people have mentioned they did not care for the sweetness of the wine, but others love it. Still, I love a sweet wine and the wine here definitely adds to that flavor profile.
By clicking on this link and booking a room with this link I may get a small commission.
The rating from Expedia for Country Inn & Suites by Radisson is 8.2/10. Country Inn & Suites by Radisson is located only a 4 minute walk from SkyLift Park, but only 12 minutes from the Aquarium of the Smokies. The Comfort Inn & Suites offers free WiFi, but also has parking included as well. The hotel has breakfast included, a gym, but also a pool that is indoors.
Frequently Asked Questions
Does Tennessee Homemade Wines Ship?
As of right now shipping is available and depends on where you live.
Can Kids Go Into The Location?
Yes, kids are welcome! But cannot participate in the wine tastings.
How Old Do You Have To Be To Sample Wine?
To sample the wine you have to be of legal drinking age.
What Is The Alcohol Content?
The alcohol content varies depending on the wine you select.
Are Daily Wine Offerings Available?
The location is open daily.
My Final Thoughts On Tennessee Homemade Wines
Finding the perfect Gatlinburg attraction is very difficult to do. However, I think Tennessee Homemade Wines would be a great place to check out. Overall, between the free tastings and the atmosphere it is very easy to see why the place is one that you should stop in and enjoy.