Read The Sleepy Bear Motel Gatlinburg Review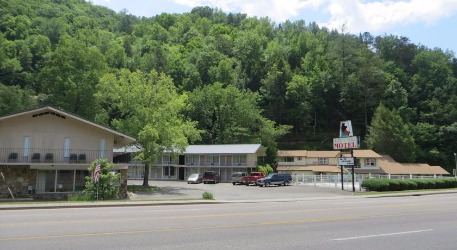 Often when you are traveling to Gatlinburg you may want to stay in the middle of town. However, I have found that when staying in downtown you do get some great access to the shops and such, but you also miss out on a lot of the quiet that is famous for the mountains. So you will enjoy the fact that the Sleepy Bear Motel Gatlinburg is a location that is outside of town, but you also need to realize this means you are going to need to drive into town and in most of the reports this is a five minute drive, which is not long, but if you can stay closer to the location and actually have a chance to walk to town in five minutes and not pay the parking fee you probably will do that instead. Either way, the location is a nice one and even though it is located away from town has the quiet mountain retreat that you will want to have, but also has the sleepy creek that is going to go by the property.
Location Of Sleepy Bear Motel
The address for the location is
820 East Parkway
Gatlinburg, TN 37738
To reach this location when you are coming in from Pigeon Forge, you are going to want to turn left onto Dudley Creek Road, before you reach Gatlinburg. You will follow this road around until you reach 321, which is also considered East Parkway. When you reach this road, you will turn right onto the road and start to head back towards Gatlinburg. The location will be on the left hand side of the road not far from this intersection. However, if you reach Alamo Steakhouse, then you have went to far up the road and passed the location.
[review_bar id='422′]
Amenities Offered By The Sleepy Bear Motel
The Sleepy Bear is an older location, so you cannot expect everything to be perfectly brand new. However, one of the main amenities the location offers is an outdoor pool that is seasonal. So this is a great amenity you are sure to enjoy, but only if you are in the region during the proper time of year for the pool to be open. This in turn makes it easier for you to get the comfort that you want, but since this is an outdoor pool you need to be prepared for the potential to have cold water.
Refrigerators and a microwave is something else you are going to like in each of the rooms. Now this is fairly standard in the hotel industry now, but for the Sleepy Bear Motel this is an amenity and it is one that you should be very thankful for the age of this hotel it is easily one of the most cutting edge items you can have inside of the room.
[links_block id='422′]
Is The Sleepy Bear Motel Located In Downtown Gatlinburg? 
While it would be great if all the hotels and motels that are in Gatlinburg were close to the downtown area, the Sleepy Bear is one that is not in the downtown proper area. In fact, this is a hotel that will take you about a five minute drive or so to reach the aquarium. Now this does not mean that you cannot walk to the downtown area or even catch a trolley, but if you want a place right in the middle of the action then the Sleepy Bear may not be the place for you.
Does The Sleepy Bear Offer Breakfast In The Morning? 
Now this is something that you may be disappointed in, but it does make it nice as well. As far as we could find and remember we always went out for breakfast to get something to eat while staying here. So you will want to make sure you check out our page on the breakfast restaurants in Gatlinburg, but when you are here it is a great way for you to get a chance to explore all the breakfast restaurants that are in town and know you will have a good breakfast.
Do The Balconies Have Riverviews?
As you can tell the Sleepy Bear in Gatlinburg does have a river or mountain stream that runs by it. However, one thing that you need to realize is this is a place that does have balconies that are overlooking this at times. So this will make it easier for you to have a great time and enjoy the sound of the river going by you at night.
Our Final Thoughts On The Sleepy Bear Motel
The Sleepy Bear is a great motel that is a little bit older, so it may appear a little dated if you are used to the modern travels offered by places like the Fairfield Inn, Ritz, or other higher end chains that are constantly updating. However, if you are a modern family with a budget to keep in mind then you will like the charm and laid back atmosphere the Sleepy Bear Motel offers you. All told this is a great place that is out of the way, which is nice, but at the same time a pain because you have to park in town. Overall, if you are on a budget and want to stay in a great hotel then you cannot go wrong with the Sleepy Bear motel.
If the Sleepy Bear Motel does not suit you, then please check out our other Gatlinburg hotels.
[links_block id='422′]