Discover Cooter's Place In Gatlinburg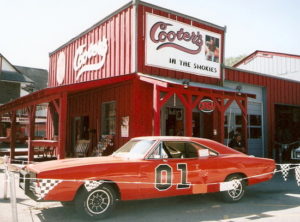 Traveling to Gatlinburg is a great way to recharge your batteries, but you may find with all the attractions in Gatlinburg it can be very difficult to find the one you should be going to see and know if it is what you really want to see or if you are sure to be let down. Now, I know that some of the places in Gatlinburg will easily fit the bill for what we would consider a great attraction to go out and see, but not all of them. The good news is, most of the Gatlinburg attractions, are family friendly and this means you can bring everyone with you to see them. That is one of the main reasons why we have decided it was time to cover what some people feel as a great attraction, but others not so much and that is nothing other than Cooter's Place. So without any further waiting, let us start to have the review of Gatlinburg museum type location completed.
Location And Hours Of Cooter's Place
Well, the first thing that you need to realize is this is a location that is on the Parkway, but not in the downtown area of the Parkway. This will make it nice if you want to have a good time and get out of a headache that can happen in downtown Gatlinburg at times. At the same time, though, it is more than just a simple museum as it is a lot more which will be covered further down. So where exactly is the place located in Gatlinburg?
542 Parkway
Gatlinburg, TN 37738
The hours of the location are as follows:
Sunday – Thursday  9:00 AM to 8:00 PM
Friday and Saturday 9:00 AM until 9:00 PM
As you can tell the location does have fairly long hours and this means you will have plenty of chances to get into town to see it. However, if you miss it, it will be your own fault and I am sure you will be wishing you had taken time out of your day to get down and see it.
Features Of This Gatlinburg Attraction
This is a type of location that is going to be seen as a museum to the Dukes of Hazard television show. While the popularity of the show is not as high as what it was in the 1980's it is still a place that the kids of that era and a lot of the parents want to go and see. Then they can start to recall the episodes that they saw some of the vehicles in, but also have a chance to have some of the memories they had about the show brought back to life again as this was a show the entire family used to watch together.
The location is one of those that is going to have a great feel to it because it has the General Lee inside of it. This alone is worth the price of admission because so many people when they were growing up would imagine they were Bo or Luke running from the law and jumping the car, or bikes, in my husband's case, across the creek where the bridge was out. So the chance to see this beautiful car in person will have the older kids drooling, but the car guys wishing they had a chance to sit behind the wheel.
On display, you will also find some of the clothing that was used in the show and worn by the actors. However, this is limited to some of the different characters, but it is definitely something you will want to check out because it will take what could be a very boring and uneventful trip to the location and make it into something you are going to remember for years to come.
If you are not really going to come to the museum, then you will like the fact this is a great mini golf location with go-kart racing. This will allow you to have something that you may not have in your area because it is getting to be very hard to find a place that will have mini golf and in my experience, it is nearly impossible to find a go-kart racing location. So this will definitely add to the experience and the trip you are taking while traveling around Gatlinburg and looking at all the attractions.
What I Liked About Cooter's Place
Well, I like the fact this is a place that has quite a bit of memorabilia from the show. While the show was not one that I watched like it was a religion mainly because I was still in my Barbie phase at the time, it is a show that I would watch with my brother. Now the show has a special meaning because it was something that he and I did together and since he passed away in 2012, I will not be able to build those types of memories with him anymore. So the place definitely brings back those memories of sitting and watching the show with my big brother.
What else I like is the fact this is more than just a museum you walk through and get your souvenir and leave. No, this is a place that has some amazing go-kart racing you can partake in, but it also has some great mini golf. The course is not the most challenging, but that is fine because it makes it easier for my kids to play on the course and have a good time playing some mini golf as well.
What I Did Not Like
Well, I have to say for this being a museum, granted a small one, it does not take long to go through it. So I have to say this is the one thing that I really do not care for because it does not take long to go through. However, that is why you will want to make sure you get the mini golf and go-kart passes as well. Then you will be able to take your entire family and have an adventure you thought you were going to miss out on.
My Final Thoughts On Cooter's Place
This is a unique attraction in Gatlinburg because of the ties it has to the Dukes of Hazard show. However, one thing that you need to realize is this is what sets it apart from the other places in town. Well, the go-kart racing helps out as well in making the place amazing. Overall, this is a great family attraction in Gatlinburg that everyone is going to like, but the car buffs will really love seeing the General Lee when they visit Cooter's Place.
Want to find out more about Gatlinburg? Check out our home page – Travel to Gatlinburg and find other Gatlinburg attractions.