Review Of Baskins Creek Nestle Inn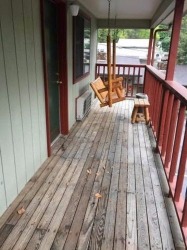 Staying in a smaller hotel without the hastle of being on the main drag can be key to having a great vacation in Gatlinburg if you like quiet. However, a lot of the hotels are so large and all seem to be competing for space on the highly revered main strip it is hard to locate. The good news is Baskins Creek Nestle Inn is one of those locations that is going to provide you with the quiet that you want to have and know it is not going to be on the main strip as it is located according to some accounts almost a full mile away from the mall or in what some say a brisk 10 minute walk to reach the aquarium. Me, I do not know who the heck is walking that, but I do not feel like trying to hit a 4 minute mile when I am traveling while running, let alone a 10 minute mile while walking. So I would think about taking my car into town if it is that far, but it is a nice walk because you are in the mountains and the scenery and sounds are some of the best you can find.
Location Of Baskins Creek Nestle Inn
The address is:
215 Circle Dr
Gatlinburg, TN, 37738
To reach this location, it is actually going to be a little bit harder than most of the hotels in Gatlinburg, because you have to make a couple of turns. When you are on the main parkway, you will want to turn left onto Cherokee Orchard Road if you are heading to the park. You will go up to what according to most maps is the 3rd road and turn left onto Baskins Creek Road. When you reach the 4th road on the right you will need to turn onto it as that should be Circle Drive. Once you are on Circle Drive the location will be on your left hand side of the road.
[review_bar id='402′]
While we are going to finish our review, we are going to do that at a later date, since that is the case make sure you check back as we are going to update over time.
If Baskins Creek Nestle Inn does not suit you make sure you check out our other Gatlinburg hotels.
[links_block id='402′]