Discover Clingmans Dome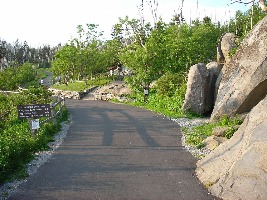 When you are looking at a great time in Gatlinburg you know that at least once you will need to get into Great Smoky Mountains National Park. However, what you will notice is the park is large and has plenty of fairly natural attractions for you to go and see. Some of these include the beautiful views that you get from the mountains, but others are going to involve more of the man made structures that you will find in Cades Cove. However, when you are looking to see the highest point in Tennessee you need to realize you will have to go to Clingman's Dome, which is located in the Great Smoky Mountains National Park and it is one of those places you are going to simply adore.
Why Go To Clingmans Dome
The view is one of the main things you will find when you go to Clingmans Dome. This is going to be a great place to go out and get some of the great views you would want to find with the views of the mountains. The views you are going to see here are some of the best that you can have, but depending on the clairty of the day you can see into several different states at once, or so it is claimed. However, this is also going to get you to the highest point in Tennessee, which is a beautiful part of the state as well. So you are going to enjoy the fact this is a place you are going to like because of this and the view that you are going to get.
How Long Should You Set Aside? 
Well the answer really is going to depend on how quickly you are able to walk up the trail it is about a half mile or so. However, it also is going to matter depending on how long you want to spend in the tower to make sure you are able to look at the views that are present and everything that you want to see. We did find that the drive up to the dome itself is going to take you some time because the speed limit is rather slow, but it is about in my case a thirty to forty five minute drive if you take your time and pull off at some of the locations, which we recommend. Once you have reached the area you will find the trail is paved and easy to walk up, but they do have other trails in the area. So you will like the fact this area is available to you and this makes it easier for you to have a great time. We found if you are just going to the tower after the drive you need to set aside at least an hour. If you are taking your time and enjoying yourself then set aside at least three to four hours.
Our Final Thoughts On Clingmans Dome
Clingmans Dome is one of those places you have to go to when you are traveling around Gatlinburg. The area is inside of the park and it is definitely one place that allows you to see everything that you can imagine in the mountains. The problem is this can take a while to drive to at times because of the mountains and stops people may have at times. So you should make sure you know about the fact this is a place we highly recommend and the views you get of the mountains are simply amazing.
Images From Clingmans Dome
[content-egg module=Amazon]